Christy Ring Cup Hurling Final – Kerry 1-20 Derry 0-12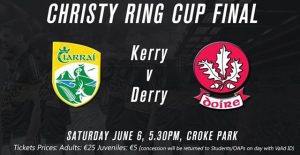 Kerry defeated Derry by 1-20 to 0-12 in the Christy Ring Cup Hurling Final on Saturday June 6th at Croke Park.
---
COMHGHAIRDEAS le Ciarraí! Congratulations to @Kerry_Official, 2015 Christy Ring Cup Champions! #GAA #BeThereAllTheWay pic.twitter.com/0gMdo2DaeX

— The GAA (@officialgaa) June 6, 2015
---
#GAA news: @Kerry_Official prove too strong for @Doiregaa in Christy Ring Cup hurling final http://t.co/PaPeM5SdId pic.twitter.com/OG5PyudDvc

— The GAA (@officialgaa) June 6, 2015
Nolan inspires Kingdom to Ring Cup final win
CHRISTY RING CUP FINAL: KERRY 1-20 DERRY 0-12
By Paul Keane at Croke Park for GAA.ie
Shane Nolan provided the inspiration at Croke Park with 1-8 as Kerry secured a historic Christy Ring Cup title success. The Kingdom led throughout as they bounced back from consecutive final defeats in 2013 and 2014 to claim the title they craved.
The reward is huge too with a place in next year's Liam MacCarthy Cup to look forward to. Specifically, Kerry will compete in Leinster's qualifier series and having already defeated Antrim, Westmeath and Carlow in competitive finals this year, they will fancy their chances.
In truth, Eamonn Kelly's side probably gave their very best a week ago in Newbridge when they hammered Kildare by 36 points. But they still had enough to see off first time finalists Derry who never looked like getting the scores they would need for a famous triumph. In all, just three of Derry's points came from open play.
Kerry also took their time to get going in a game, lacking real cut and thrust for long spells. Still, it won't have bothered the Kingdom too much as they led from the opening score of the game until full-time. Michael O'Leary put them ahead in the first minute with the first of his three points and they never looked back. They led 1-10 to 0-8 at half-time though played their best hurling only in patches. O'Leary reeled off fine back to back points in the 23rd and 24th minutes.
Nolan produced a thrilling moment in the 30th minute when he outpaced his man on the left of goals before releasing a bullet shot to the net. Kerry led by seven after that though Derry clawed back points before half-time through free-takers Patrick Henry and Ruairi Convery.
The Oak Leafers were still in the game but couldn't kick on and eat into that five-point deficit. They only managed one second-half point from play. Kerry didn't come close to peaking either but were always well in the clear. Both teams went 10 minutes without scoring after the restart and the barren spell hurt Derry most. Wing-back Keith Carmody put Kerry 1-14 to 0-10 clear with 15 minutes to go. The score appeared to energise Kerry as Clare man Patrick Kelly added two more before another from Carmody.
Nolan added three late points from frees while a bad day at the office was compounded for Derry when they lost Kevin Hinphey to a second yellow card in injury-time.
***
Scorers for Kerry: Shane Nolan 1-8 (0-7f), Michael O'Leary 0-3, Keith Carmody 0-3, Colum Harty 0-2, Patrick Kelly 0-2, John Egan 0-1, Daniel Collins 0-1.
Scorers for Derry: Ruairi Convery 0-5 (0-5f), Patrick Henry 0-4 (0-4f), Alan Grant 0-1, Liam Hinphey 0-1, Jonathan O'Dwyer 0-1.
KERRY: Stephen Murphy; Rory Horgan, Paud Costelloe, Bryan Murphy; Keith Carmody, Darren Dineen, Daniel Collins; John Griffin, Patrick Kelly; Michael O'Leary, John Egan, Colum Harty; Mikey Boyle, Shane Nolan, Padraig Boyle
Subs: John O'Neill for Padraig Boyle (43), Davy Butler for O'Leary (50), Sean Weir for M Boyle (58), James Flaherty for Harty (63), Dougie Fitzell for Dineen (69).
DERRY: Daryl McDermott; Michael Warnock, Conor Quinn, Sean McCullagh; Liam Hinphey, Conor McSorley, Kevin Hinphey; Sean McGuigan, Brendan Quigley; Patrick Henry, Paul Cleary, Patrick McCloskey; Alan Grant, Ruairi Convery, Aaron Kelly
Subs: Niall Ferris for McCloskey (6), Dean Flanagan for Quigley (31), Jonathan O'Dwyer for Cleary (40), Ruairi McCloskey for McSorley (57), Michael Conway for Grant (60).
Referee: John Keane (Galway)
---
Preview – Christy Ring Cup Final, @Kerry_Official v @Doiregaa, Croke Park, Saturday, 5.30pm: http://t.co/63ipfRgyJa #GAA

— The GAA (@officialgaa) June 5, 2015
---
Fixture Details
Christy Ring Cup Final
Páirc an Chrócaigh 17:30
Ciarraí v Doire
Referee: John Keane (Gaillimh)
(E.T. if Necessary)
---
Ticket Information
Adults: €25
Juveniles: €5
€5 concession will be returned to Students/OAPs on day with Valid ID.
---
Team News
The Kerry Team for The Christy Ring Cup has been announced:… http://t.co/WjeLSt3OXf

— Kerry GAA (@Kerry_Official) June 5, 2015
Kerry Senior Hurling Team V Derry Christy Ring Cup Final
The Kerry Senior Hurling Team to play Derry in the Christy Ring Cup Final in Croke Park on Saturday (5:30pm) shows 1 change in personnel from the side that defeated Kildare in the semi final; Patrick Kelly, club-tied for the semi final, is named at midfield with John Egan moving to corner forward to the exclusion of David Butler.
The team, captained by John Griffin, lines out as follows:
1 Stephen Murphy Causeway
2 Rory Horgan St Brendans
3 Paud Costelloe Ballyduff
4 Bryan Murphy Causeway
5 Daniel Collins Kilmoyley
6 Darren Dineen St Brendans
7 Keith Carmody Causeway
8 John Griffin (c) Lixnaw
9 Patrick Kelly Clarecastle
10 Michael O'Leary Abbeydorney
11 Shane Nolan Crotta O'Neills
12 Colum Harty Causeway
13 Mikey Boyle Ballyduff
14 Padraig Boyle Ballyduff
15 John Egan St Brendans
Fir Ionaid:
16 Philip Lucid Ballyheigue
17 David Butler Knockavilla Kickhams
18 Tommy Casey Causeway
19 Dougie Fitzell Kilmoyley
20 James Flaherty Lixnaw
21 John O'Neill Clonoulty-Rossmore
22 Brendan O'Leary Abbeydorney
23 Adrian Royle Kilmoyley
24 Darragh Shanahan Lixnaw
25 Sean Weir Crotta O'Neills
26 Giles O'Grady Ballyduff
Derry teams named for One Big Weekend #GAA (via @doiregaa) http://t.co/8uEmeoOiv9 pic.twitter.com/R0EFdqnQzZ

— Derry GAA (@Doiregaa) June 4, 2015
The Derry senior hurling team to play Kerry in the Christy Ring Cup final on Saturday at Croke Park (5.30pm) is as follows:
1. Darrell McDermott (Beannchar)
2. Michael Warnock (Suaitreach)
3. Conor Quinn (Suaitreach)
4. Sean McCullagh (Beannchar) (capt)
5. Anton Rafferty (Eoghan Rua)
6. Conor McSorley (Baile na Scrine)
7. Kevin Hinphey (Chaoímhín Uí Loínsigh)
8. Sean Mc Guigan (Baile na Scrine)
9. Breandán Quigley (Na Magha)
10. Patrick McCloskey (Chaoímhín Uí Loínsigh)
11. Paul Cleary (Baile na Scrine)
12. Patrick Henry (Leamhaigh)
13. Aaron Kelly (Baile na Scrine)
14. Ruairi Convery (Suaitreach)
15. Alan Grant (Na Magha)
16. Barry Robinson (Na Magha)
17. John McCloskey (Baile na Scrine)
18. Ruairi Mc Closkey (Beannchar)
19. Dean Flanagan (Baile na Scrine)
20. Tiarnan Mc Closkey (Beannchar)
21. Liam Hinphey (Chaoímhín Uí Loínsigh)
22. Niall Ferris (Chaoímhín Uí Loínsigh)
23. Jonathan O'Dwyer (Beannchar)
24. Brendan Douban (Na Magha)
25. Déaglán Foley (Na Magha)
26. Mickey Conway (Suaitreach)
27. Sean McNicholl (Suaitreach)
28. Eugene McGuckin (Suaitreach)
29. Diarmuid Shiels (Na Magha)
30. Malachai O'Hagan (Suaitreach)
---
Match Coverage
This game will be shown live on TG4