Christy Ring Cup Final – Kildare 4-18 Kerry 2-22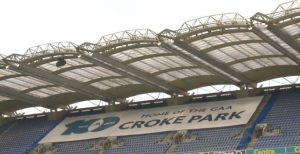 Kildare defeated Kerry by 4-18 to 2-22 in the Christy Ring Cup Final on Saturday June 7th at Croke Park.
---
Match Report: Earlier today, @KildareGAA secured their 1st Christy Ring title with dramatic win over @Kerry_Official: http://t.co/t72Mdk7lFM

— The GAA (@officialgaa) June 7, 2014
Christy Ring Cup glory for Kildare
Christy Ring Cup Final: Kildare 4-18 Kerry 2-22
Report from the GAA.ie web site
Kildare lifted the Christy Ring Cup for the first time after a thrilling win over Kerry in the last of Saturday's three finals at Croke Park.
Gerry Keegan, Bernard Deay, Ray McLoughney and Paul Divilly hit 3-16 between them to give the Lilywhites a high-scoring win against a Kerry side who were left to rue wasteful finishing.
Hot favourites Kerry raced into a six-point lead, helped by a Pádraig Boyle goal and a huge point from a free by goalkeeper Tadhg Flynn, but Kildare's four hitmen up front dragged them back into the game, with Martin Fitzgerald also on target.
'Keeper Paul Dermody smashed home a penalty and Gerry Keegan added a second goal to leave Kerry shell-shocked, but Shane Nolan netted at the other end to send the Kingdom in ahead by 2-10 to 2-9. A high-octane start to the second half saw Ray McLoughney's goal for Kildare cancelled out by points from John Egan, Colm Harty and substitute John Griffin.
Bernard Deay swooped for an opportunistic fourth Kildare goal and although Nolan and Griffin brought Kerry back to within two, their desperate attempts to avoid a second consecutive final defeat fell short, with Dermody saving a David Butler shot late on. The victorious Kildare side will now bid for a Liam MacCarthy Cup place in next Saturday's play-off against Westmeath.
***
Scorers for Kildare: G Keegan 1-4, P Divilly 0-7 (5f), B Deay 1-3, R McLoughney 1-2, P Dermody 1-0 (pen), M Fitzgerald 0-2
Scorers for Kerry: S Nolan 1-4, P Boyle 1-2, J Egan 0-3 (2f), D Butler 0-3, C Harty 0-3, J Griffin 0-3, T Flynn 0-1 (f), T Casey 0-1, M Boyle 0-1, D Collins 0-1
Kildare: P Dermody; J Doran, F Ó Muineacháin, N Ó Muineacháin; D Harney, M Moloney, R Hoban; É Ó Neill, M Fitzgerald; R Kelly, P Divilly, B Deay; G Keegan, T Murphy, R McLoughney
Subs: P Reidy for R Kelly, J O'Malley for T Murphy.
Kerry: T Flynn; B Murphy, T Murnane, D Fitzell; S Weir, D Dineen, T Casey; D O'Connell, C Harty; M Boyle, D Collins, J Egan; D Butler, P Boyle, S Nolan
Subs: J Griffin for D Fitzell, B O'Leary for M Boyle, J Leahy for T Casey, J Casey for D Butler.
Referee: S Cleere (Kilkenny)
---
Team News
KERRY (SH v Kildare): T Flynn (Causeway); B Murphy (Causeway), T Murnane (Kilmoyley), D Fitzell (Kilmoyley); S Weir (Crotta O'Neills), D Dineen (St Brendan's), T Casey (Causeway); D O'Connell (Abbeydorney), C Harty (Causeway); M Boyle (Ballyduff), D Collins (Kilmoyley), J Egan (St Brendan's); D Butler (Knockavilla Donaskeigh Kickhams, Tipperary), P Boyle (Ballyduff), S Nolan (Crotta O'Neills). Subs: N Leen (Ballyduff), J Griffin (Lixnaw), B O'Leary (Abbeydorney), J Casey (Ballyheigue), J Leahy (Causeway), K Carmody (Causeway), P Lucid (Ballyheigue), P O'Connor (Kilmoyley), A Fealy (Causeway), L Boyle (Ballyduff), P McGrath (Causeway).
Kildare Senior Hurling team to play Kerry
1.Paul Dermody – Éire Óg/Corra Choill
2.John Doran – Léim an Bhradáin
3.Fiachra Ó Muineachain – Cill Droichid
4.Niall Ó Muineachain (capt) – Cill Droichid
5.David Harney – Naomh Eoin Baile an tSaoir
6.Mark Moloney – Cill Droichid
7.Richie Hoban – Ard Cloch
8.Eanna Ó Neill – Coill Dubh
9.Martin Fitzgerald – Ard Cloch
10.Ross Kelly – Nas na Rí
11.Paul Divilly – Confaidh
12.Bernard Deay – Claonadh
13.Gerry Keegan – Cill Droichid
14.Tony Murphy – Cill Droichid
15.Ray Mc Loughney – Kilruane MacDonaghs, Tipperary