Allianz Football League Division 1 – Mayo 4-12 Cork 2-14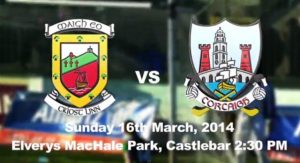 Mayo defeated Cork by 4-12 to 2-14 in round 5 of the Allianz Football League Division 1 on Sunday March 16th at MacHale Park, Castlebar.
Questions remain for both Mayo and Cork
By Mike Finnerty for the Irish Examiner newspaper
ALLIANZ FL DIV 1:
Mayo 4-12 Cork 2-14
When the backbone of Cork's footballing talent for the past 10 years retired in droves last year there were fears for the county this season. A new manager building a new team in the cauldron of the ruthless Allianz FL Division 1 looked to be a step too far. But, as so often happens in these stories, the Rebels went on an unbeaten run in the league which put them on top spot leading into the weekend's games. Now the storyline was that Brian Cuthbert had reinvented the side in just a few games.
Yesterday changed the perception again. An away trip to Mayo was always going to test the latest theory and Cork came up short. The lesson learned now? This Cork side is neither the finished article nor a dishevelled wreck, but they are on the upward curve. And what's Mayo's story? Is this their year? Again it's too early to say but they had more than enough for a Cork side still finding their feet.
The league leaders started the game in whirlwind fashion and finished like a train too; but in between they seemed to lose interest in the whole thing and allowed Mayo to take the initiative. Last year's beaten All-Ireland finalists, who also allowed their standards to slip in the final quarter, played some scintillating football during their time in the ascendancy.
Their high-octane, fast-break style of play had Cork in dire straits and once Aidan O'Shea and Jason Gibbons secured control of the midfield exchanges, everything fell into place. Jason Doherty's goal two minutes into first-half injury-time was one for the scrapbook, and meant Mayo had turned a five-point deficit into a six-point lead over 25 minutes.
Two sensational finishes from Alan Freeman and Gibbons in the 48th and 60th minutes sealed the deal for the home side, although Cork did take the lopsided look off the scoreboard with a late blitz that yielded 2-5 in the last quarter. Mayo were actually 3-12 to 0-9 ahead when Gibbons' thunderbolt hit the net, and Cork were a beaten docket at that stage. They had been run ragged by Mayo's 'pass and move' approach with half-backs, midfielders and attackers all combining to cut Cork's back line open time and again.
"We're not far off," said James Horan afterwards when asked about Mayo's current form. "We'd like to be more consistent in games, we're a little bit up and down. We can be very good and very bad, but we're not far off where we need to be. "We were very good at times. For Jason Doherty's goal, the pace and movement that he came in on that was frightening. When we do that we're dangerous. It's just doing that for as long as we can, as often as we can. "The big concern is the amount of goals we're giving away. That's something we need to keep chipping away at."
Early on it looked like Brian Cuthbert's side were going to put on an exhibition, racing into a 0-5 to 0-0 lead after 12 minutes, with Brian Hurley (three) and Donnacha O'Connor (two) posting a string of audacious scores.
But once Mayo settled into their stride they assumed complete control, of both the midfield battleground and the game itself, and the issue was beyond doubt long before the end.
Mayo wiped out the early deficit with five unanswered points in six minutes from the marauding Jason Gibbons, Cillian O'Connor (free), Kevin McLoughlin, Lee Keegan and Aidan O'Shea. But it was a brilliant cameo from Jason Doherty just before the interval that helped to break Cork's spirit; the wing-forward pilfered 1-2 in 10 minutes to put Mayo in the box seat at half-time. They led by 1-9 to 0-6 at that stage.
Cork had fallen 12 points behind, midway through the second half, when they finally started to play again. Sub John O'Rourke fired in a goal on 56 minutes that sparked a mini-revival but poor shooting spoiled some decent approach work. Many of the crowd had already left when Brian Hurley grabbed a well-taken consolation goal in stoppage-time, but the damage had long since been done.
"Certainly it's a worry," remarked the Rebels trainer Ronan McCarthy when asked about his team's concession of seven goals in the last two games. "For a couple of the goals today, players were in very good positions going forward, getting ready to receive the ball, but if it breaks down we're a bit open. But they're things that can be worked on.
"We also need to work on our breaking ball out the field, we need to sweep better around the middle. It was a funny game, they won nine of their own kick-outs in the first half but we won five in a row coming up to half-time. In their period of dominance they tacked on scores where we didn't."
This third successive win in as many weeks propels Mayo up the Division 1 table and will help to rally the troops ahead of Saturday week's All-Ireland final rematch against Dublin at Croke Park.
Their prospects of reaching the league semi-finals for the third season in a row have also been greatly enhanced by this latest victory. But there are still a few twists in the tale to come before the story of this unpredictable division can be written.
Scorers for Mayo: J Doherty 1-3, C O'Connor 1-2, K McLoughlin 0-4 (1f), J Gibbons 1-1, A Freeman 1-0, A O'Shea, L Keegan 0-1 each.
Scorers for Cork: B Hurley 1-5 (1f), D O'Connor (1f), A Walsh 0-3 each, J O'Rourke 1-0, C O'Neill (45), J Hayes (f), M Collins 0-1 each.
MAYO: R Hennelly; B Harrison, G Cafferkey, S McHale; L Keegan, D Vaughan, C Boyle; A O'Shea, J Gibbons; K McLoughlin, J Doherty, K Higgins; M Sweeney, A Freeman, C O'Connor.
Subs for Mayo: S O'Shea for A O'Shea (48), B Gallagher for Higgins (50), D Drake for McHale (52), D Coen for Freeman (55), T Parsons for Gibbons (60), E Varley for Sweeney (64).
CORK: K O'Halloran; M Shields, E Cadogan, K Crowley; C Dorman, T Clancy (Clonakilty), A Cronin; A O'Sullivan, A Walsh; C O'Driscoll, P Kerrigan, T Clancy (Fermoy); C O'Neill, B Hurley, D O'Connor.
Subs for Cork: M Collins for O'Neill (h-t), J O'Rourke for Clancy (Fermoy, h-t), J Loughrey for Crowley (40), F Goold for O'Connor (44), B O'Driscoll for Cadogan (47, inj), J Hayes for Goold (bc, 58).
Referee: R Hickey (Clare).
Mayo 4-12 Cork 2-14
Report from the RTE.ie web site
Mayo are back in the hunt for the Allianz Division 1 semi-finals after they fired four goals past the previously unbeaten Cork in a 4-12 to 2-14 victory at McHale Park. Jason Doherty, Jason Gibbons, Alan Freeman and Cillian O'Connor all hit the net for James Horan's men who weathered an early Cork storm to take the victory.
With Brian Hurley in terrific form Cork stormed into a 0-5 to 0-0 lead by the ninth minute, but Doherty's goal late in the second-half gave them the upper hand. After their early set-back Mayo improved dramatically at the back and after missing a raft of chances up front they went on to hit the next six points to take control.
Colm O'Neill landed a 45 to level the game at 0-6 each nine minutes before the break, but Mayo finished the half well and a brace of points from Jason Doherty, a free from O'Connor and Doherty's goal two minutes into added-time gave the Green and Red a 1-9 to 0-6 lead at half-time.
The home side continued where they left off after the restart and Kevin McLoughlin pointed before Aidan Walsh and Donncha O'Connor closed the gap to six points again. But Mayo were improving in front of goal and after McLoughlin's second point of the half, Freeman struck a fine goal past Ken O'Halloran's to claim a ten point lead.
Walsh briefly halted the westerners surge with a good point, but once Gibbons hit Mayo's third goal in the 50th minute and O'Connor followed suit nine minutes later, the points were secured. Cork recovered somewhat late on and hit the last three points, while Hurley's late goal softened the blow to Cork's scoring difference.
Mayo: R Hennelly; S McHale, G Cafferkey, B Harrison; L Keegan (0-01), C Boyle, D Vaughan; A O'Shea (0-01), J Gibbons (1-01); K McLoughlin (0-04, 0-01f), K Higgins, J Doherty (1-03); M Sweeney, A Freeman (1-00), C O'Connor (1-02, 0-02f).
Subs: D Drake for Boyle (8-15 mins blood), D Coen for Freeman (54), T Parsons for Gibbons (60), E Varley for Sweeney (74).
Cork: K O'Halloran; M Shields, E Cadogan, K Crowley; C Dorman, T Clancy (Clonakilty), A Cronin; A O'Sullivan, A Walsh (0-3); C O'Driscoll, P Kerrigan, T Clancy (Fermoy); B Hurley (1-05, 0-01f), C O'Neill (0-01, 0-01 '45), D O'Connor (0-03, 0-02f).
Subs: J O'Rourke (1-00) for Clancy (Fermoy) (half-time), M Collins for O'Neill (half-time), J Loughrey for Crowley (40 mins), F Goold for O'Connor (44), B O'Driscoll (0-01) for Cadogan (47), J Hayes (0-01, 0-01f) for Goold (59 BC).
Referee: Rory Hickey (Clare)
Previews: Division I Football – Derry v Dublin, Tyrone v Westmeath, Mayo v Cork, Kildare v Kerry: http://t.co/0KwNQk4bs3 #AllianzLeagues

— The GAA (@officialgaa) March 14, 2014
Mayo Senior Football Team V's @OfficialCorkGAA for Round 5 of @AllianzIreland Football League this Sunday at 2.30pm http://t.co/ZfpKRXdsSJ.

— Mayo GAA (@MayoGAA) March 14, 2014
Team News
The Cork Senior Football team to play Mayo on Sunday at 2.30pm in McHale Park, Castlebar, will line out as follows:
Ken O'Halloran (Bishopstown)
Michael Shields (St. Finbarr's)
Eoin Cadogan (Douglas)
Kevin Crowley (Millstreet)
Conor Dorman (Bishopstown)
Tom Clancy (Clonakilty)
Alan Cronin (Nemo Rangers)
Andrew O'Sullivan (Castletownbere)
Aidan Walsh (Kanturk)
Colm O'Driscoll (Tadhg MacCárthaigh)
Paul Kerrigan (Nemo Rangers)
Tomás Clancy (Fermoy)
Colm O'Neill (Ballyclough)
Brian Hurley (Castlehaven)
Donncha O'Connor (Ballydesmond)
Subs:
David Hanrahan (Douglas)
John McLoughlin (Kanturk)
James Loughrey (Mallow)
Kevin O'Driscoll (Tadhg MacCárthaigh)
Fintan Goold (Macroom)
Micheál O Laoire (Naomh Abán)
Barry O'Driscoll (Nemo Rangers)
Mark Collins (Castlehaven)
John O'Rourke (Carbery Rangers)
John Hayes (Carbery Rangers)
Daniel Goulding (Eire Óg)
Brian Cuthbert has made eight changes for Sunday's game. U21s Conor Dorman and Kevin Crowley are in, while Tom Clancy returns from injury. Eoin Cadogan and Aidan Walsh return, having been on hurling duty last weekend, while there's a start for Colm O'Driscoll. Donncha O'Connor returns to the full forward line, and following two substitute appearances, Colm O'Neill gets his first start of the year.
Patrick Kelly and Damien Cahalane will play club games this weekend. Jamie O'Sullivan, Noel Galvin and Donal Og Hodnett continue their recovery from injury. Ruairi Deane, who has suffered a torn cruciate, met his surgeon this week and began a rehab programme. He will meet him again in four weeks to check progress and determine the next course of action.
Mayo welcome Allianz Football League leaders Cork to Elverys MacHale this Sunday March 16th at 2.30pm. James Horan makes two changes to the side that defeated Westmeath last weekend in Mullingar. Into the team come Cillian O'Connor for this for his first start of the season & Shane McHale in place of Enda Varley & Kevin Keane. The Mayo Senior Football Team to face Cork is as follows:
1) Robbie Hennelly – Breaffy
2) Brendan Harrison – Aghamore
3) Ger Cafferkey – Ballina Stephenites
4) Shane McHale – Knockmore
5) Lee Keegan – Westport (Capt.)
6) Donal Vaughan – Ballinrobe
7) Colm Boyle – Davitts
8) Aidan O'Shea – Breaffy
9) Jason Gibbons – Ballintubber
10) Kevin McLoughlin – Knockmore
11) Jason Doherty – Burrishoole
12) Keith Higgins – Ballyhaunis
13) Mickey Sweeney – Kiltane
14) Alan Freeman – Aghamore
15) Cillian O'Connor – Ballintubber
James Horan – Manager
Tom Prendergsat – Selector
Donie Buckley – Selector
Ed Coughlan – Trainer
Sean Moffatt – Doctor