All-Ireland Senior Hurling Semi-Final – Kilkenny 1-21 Waterford 0-18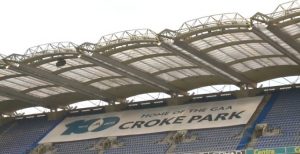 Kilkenny defeated Waterford by 1-21 to 0-18 in the All-Ireland Senior Hurling Championship Semi-Final on Sunday August 9th at Croke Park.
---
---
REPORT: @KilkennyCLG overcome @WaterfordGAA to reach 2015 All-Ireland Hurling Final » http://t.co/jwwmo0aUB3 #KKvWAT pic.twitter.com/JiABsRi3io

— The GAA (@officialgaa) August 9, 2015

Relentless Kilkenny shatter Waterford's dream
€‹GAA Hurling All-Ireland Senior Championship Semi-Final: Kilkenny 1-21 Waterford 0-18
By Paul Keane at Croke Park for GAA.ie
Big guns TJ Reid and Richie Hogan combined superbly at Croke Park to fire holders Kilkenny through to a remarkable 14th All-Ireland hurling final in the Brian Cody era.
All Star Reid blasted a brilliant 1-9 while Hurler of the Year Hogan weighed in with 0-5 from play in a tense battle in front of 41,122, securing a decider date with Tipperary or Galway next month. The Cats moved ahead early on thanks to Reid's goal, the only one of the game, and remained in pole position all the way until full-time. But they were never comfortably clear of a Waterford side that based a breakthrough season on a platform of solid defending.
Derek McGrath's Allianz League champions and Munster finalists battled gamely with Colin Dunford inspiring a mini revival that saw them reduce the gap to three with 11 minutes remaining. But a typically strong Kilkenny finish that included two steadying points from Hogan ultimately eased them to an anticipated win, keeping their hopes of back-to-back titles alive.
Waterford played a typical tactical game, making three late alterations to their line-up and dropping an extra man into their defence to shore up the area. It made for a tight, tense afternoon with both teams requiring the entire opening half to feel each other out and get to grips with the fortified defences.
In truth, inspiration was thin on the ground initially with the majority of first-half scores coming from placed balls. All that separated them at the break was a touch of class from Reid whose 17th minute goal helped Kilkenny to lead 1-9 to 0-10 at half-time. It was a quality strike as the All Star forward, who outfought Barry Coughlan and Tadhg de Búrca to a high ball in and spun away before planting a low shot across goals to the bottom left corner.
It put Kilkenny 1-3 to 0-3 up after an evenly-contested opening quarter and the strike kept them in front for the remainder of the half, and indeed the game. Reid scored a whopping 1-7 in the first-half alone and consistently punished Waterford for conceding frees in the scoring zone.
The Ballyhale man had a 100 per cent record from six frees and added a neat score from open play. Scores were that bit harder for Waterford to come by and they required several moments of excellence just to split the posts. Austin Gleeson's side line conversion after eight minutes was a beauty while Shanahan nailed five points from placed balls including a couple of monster efforts.
Waterford required a bright start to the second-half but it was Kilkenny that got it, outscoring Na Déise by five points to two in the opening 10 minutes to stretch their lead. It moved them five clear and while Dunford came into the game strongly with three points in a row at one stage, Waterford never got closer to Kilkenny than a goal.
***
Scorers for Kilkenny: TJ Reid 1-9 (0-7f), Richie Hogan 0-5, Ger Aylward 0-4, Cillian Buckley 0-1, Eoin Larkin 0-1, Michael Fennelly 0-1.
Scorers for Waterford: Maurice Shanahan 0-9 (0-6f, 0-1 65), Colin Dunford 0-4, Austin Gleeson 0-3 (0-1 s/l), Shane Bennett 0-1, Kevin Moran 0-1.
Kilkenny: Eoin Murphy; Paul Murphy, Joey Holden, Shane Prendergast; Padraig Walsh, Kieran Joyce, Cillian Buckley; Michael Fennelly, Conor Fogarty; Walter Walsh, Richie Hogan, Colin Fennelly; Ger Aylward, TJ Reid, Eoin Larkin
Subs: John Power for W Walsh (67).
Waterford: Stephen O'Keeffe; Shane Fives, Barry Coughlan, Noel Connors; Darragh Fives, Tadhg de Burca, Philip Mahony; Kevin Moran, Jamie Barron; Shane Bennett, Michael Walsh, Austin Gleeson; Colin Dunford, Maurice Shanahan, Jake Dillon
Subs: Patrick Curran for Dillon (53), Stehen Bennett for Shane Bennett (57).
Referee: Brian Gavin (Offaly)
---
---
Here's the @GAAlearning FT stats of #KKvWAT; @KilkennyCLG scoring 15/32 chances from play vs @WaterfordGAA #GAA pic.twitter.com/VlkXnSR4A3

— The GAA (@officialgaa) August 9, 2015
---
TJ Reid of @KilkennyCLG was our @LibertyIRL / @RTE Man of the Match today #WatvKil #SundayGame pic.twitter.com/wcfaonOC5i

— The Sunday Game (@TheSundayGame) August 9, 2015
---
Preview – All-Ireland SHC Semi-Final, @KilkennyCLG v @WaterfordGAA, Croke Park, Sunday, 3.30pm: http://t.co/dnoDmB29TP #GAA

— The GAA (@officialgaa) August 7, 2015
---
---
Fixture Details
09.08.2015 (Sun)
GAA Hurling All-Ireland Senior Championship Semi Final
Páirc an Chrócaigh 15:30
Cill Chainnigh v Port Láirge
Referee: Brian Gavin (Uíbh Fhailí)
---
Team News
Kilkenny: 1 Eoin Murphy; 2 Paul Murphy, 3 Joey Holden (captain), 4 Shane Prendergast; 5 Padraig Walsh, 6 Kieran Joyce, 7 Cillian Buckley; 8 Michael Fennelly, 9 Conor Fogarty; 10 Walter Walsh, 11 Richie Hogan, 12 TJ Reid; 13 Ger Aylward, 14 Colin Fennelly, 15 Eoin Larkin.
Substitutes: 16 Richie Reid, 17 Michael Walsh, 18 Robert Lennon, 19 Diarmuid Cody, 20 Lester Ryan, 21 Joe Lyng, 22 John Power, 23 Jonjo Farrell, 24 Matthew Ruth, 25 Mark Kelly, 26 Conor Martin.
Waterford: 1 Stephen O'Keeffe; 2 Shane Fives, 3 Barry Coughlan, 4 Noel Connors; 5 Tadhg de Búrca, 6 Austin Gleeson, 7 Philip Mahony; 8 Jamie Barron, 17 Darragh Fives; 10 Kevin Moran, 22 Shane Bennett, 12 Jake Dillon; 21 Maurice Shanahan, 14 Michael Walsh, 15 Colin Dunford.
---
---
KILKENNY OR WATERFORD: WHO BOOKS FIRST FINAL PLACE?
It's the biggest hurling game of the year so far and it's coming your way in Croke Park next Sunday when Kilkenny take on Waterford in the first of the 2015 All-Ireland senior semi-finals. It will be preceded by the Kilkenny-Galway minor semi-final at 1.30.
Kilkenny seniors are bidding to reach the final for the 14th time in the last 17 seasons, having failed to make it on only three occasions (2001-05-13).
Waterford last reached the All-Ireland final in 2008.
---
---
PATH TO THE SEMI-FINAL: Kilkenny
Kilkenny 5-25 Wexford 0-16 (Leinster semi-final)
Kilkenny 1-25 Galway 2-15 (Leinster final)
Kilkenny scorers
TJ Reid…………………2-16 (1-0 penalty, 0-8 frees, 0-2 '65s')
Ger Aylward………….3-8
Richie Hogan…………1-9
Eoin Larkin……………0-7
John Power……………0-2
Colin Fennelly……….0-2
Walter Walsh…………0-2
Conor Fogarty……….0-1
Cillian Buckley………0-1
Michael Fennelly…..0-1
Kevin Kelly………….0-1
---
PATH TO THE SEMI-FINAL: Waterford
Waterford 3-19 Cork 1-21 (Munster quarter-final)
Tipperary 0-21 Waterford 0-16 (Munster final)
Waterford 2-21 Dublin 1 -19 (All-Ireland quarter-final)
Waterford scorers
Maurice Shanahan………..2-29 (0-18 frees, 0-5 '65s')
Austin Gleeson…………….0-7 (0-2 frees, 0-1 sideline)
Kevin Moran……………….0-6
Shane Bennett……………..1-2
Colin Dunford……………..0-4
Jake Dillon………………….1-0
Tom Devine………………..1-0
Stephen Bennett…………..0-2
Shane Fives………………0-2
Patrick Curran………….0-2
Jake Dillon……………….0-1
Tadhg De Burca……….0-1
---
HEAD TO HEAD IN THE CHAMPIONSHIP
This will be the 11th championship meeting between Kilkenny and Waterford. Kilkenny won eight of the previous ten to Waterford's one while there was one draw. Waterford's sole success came in the 1959 All-Ireland final replay.
2013: Kilkenny 1-22 Waterford 2-16 after extra-time (Round 3 Qualifiers)
2011: Kilkenny 2-19 Waterford 1-16 (All-Ireland semi-final)
2009: Kilkenny 2-23 Waterford 3-15 (All-Ireland semi-final)
2008: Kilkenny 3-30 Waterford 1-13 (All-Ireland final)
2004: Kilkenny 3-12 Waterford 0-18 (All-Ireland semi-final)
1998: Kilkenny 1-11 Waterford 1-10 (All-Ireland semi-final)
1963: Kilkenny 4-17 Waterford 6-8 (All-Ireland final)
1959: Waterford 3-12 Kilkenny 1-10 (All-Ireland final replay)
1959: Waterford 1-17 Kilkenny 5-5 (All-Ireland final draw)
1957: Kilkenny 4-10 Waterford 3-12 (All-Ireland final)
---
LAST FIVE ALL-IRELAND SEMI-FINALS
Kilkenny
2012: Kilkenny 4-24 Tipperary 1-15
2011: Kilkenny 2-19 Waterford 1-16
2010: Kilkenny 3-22 Cork 0-19
2009: Kilkenny 2-23 Waterford 3-15
LAST FIVE ALL-IRELAND SEMI-FINALS
Waterford
2011: Kilkenny 2-19 Waterford 1-16
2010: Tipperary 3-19 Waterford 1-18
2009: Kilkenny 2-23 Waterford 3-15
2008: Waterford 1-20 Tipperary 1-18
2007: Limerick 5-11 Waterford 2-15
---
Last Championship Clash
Kilkenny 1-22 Waterford 2-16 after extra-time
(2013 All-Ireland qualifiers, Thurles)
Kilkenny: Eoin Murphy; Paul Murphy, JJ Delaney, Jackie Tyrrell; Tommy Walsh, Brian Hogan, Kieran Joyce; Eoin Larkin (0-4, 0-3 frees), Michael Rice; Colin Fennelly (0-4), Richie Power (1-5, 1-0 pen, 0-2 frees), Matthew Ruth (0-1); Richie Hogan (0-5), Walter Walsh, Aidan Fogarty (0-2).
Subs: Henry Shefflin for Walter Walsh; Michael Fennelly (0-1) for Rice; Lester Ryan for Fogarty; Walter Walsh for Shefflin; Aidan Fogarty for Walter Walsh; Conor Fogarty for Delaney.
Waterford: Stephen O'Keeffe; Shane Fives, Liam Lawlor, Noel Connors; Jamie Nagle (0-1f), Michael Walsh, Kevin Moran (0-3); Darragh Fives (0-3), Richie Foley (0-1); Jake Dillon (1-2, 0-1 free), Seamus Prendergast (0-1), Shane O'Sullivan; Brian O'Sullivan (0-1), Maurice Shanahan, Jamie Barron (0-1).
Subs: Ray Barry (1-3) for Brian O'Sullivan; Martin O'Neill for Shanahan; Shane Walsh for O'Neill; Paudie Prendergast for Foley; Tony Browne for Darragh Fives; Eddie Barrett for Barron; Darragh Fives for Paudie Prendergast, Maurice Shanahan for Moran.
---
This will be the 16th time that Brian Cody has led Kilkenny into the All-Ireland semi-final since taking over as manager for the 1999 season. They have won 13 of the previous 15, with their only defeats coming against Galway in 2001 and 2005. 2013 was the only season they didn't qualify for the semi-final under Cody.
Waterford are seeking their first championship win over Kilkenny since the 1959 All-Ireland final replay.
This will be the first competitive meeting between the counties this year, as Kilkenny were in 1A and Waterford in 1B of the Allianz Hurling League. Kilkenny failed to reach the quarter-finals while Waterford went on to take the title.
Kilkenny's last defeat in an All-Ireland semi-final was against Galway in 2005. Since then they won in 2006-07-08-09-10-11-12-14. They missed out in 2013, having been beaten by Cork in the quarter-finals.