2023 Tailteann Cup Football Group 2 – Tipperary 0-17 Waterford 1-13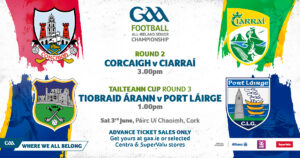 Tipperary defeated Waterford by 0-17 to 1-13 in Round 3 of the Tailteann Cup Football Group 2 on Saturday June 3rd at Páirc Uí Chaoimh.
---
Match Highlights
In the Tailteann Cup @TipperaryGAA edged out Waterford at Páirc Uí Chaoimh! Take a look at the best of the action from the game below with #GAANOW! pic.twitter.com/zKEWYTUuU2

— The GAA (@officialgaa) June 7, 2023
---
Tipp edge past Waterford in a tight affair https://t.co/4AyinuLu8E

— Irish Examiner Sport (@ExaminerSport) June 3, 2023
Tipp edge past Waterford in a tight affair
Tailteann Cup Group 2
Tipperary 0-17 Waterford 1-13
Report by Stephen Barry for the Irish Examiner newspaper
A third win of 2023 for Tipperary, all coming against Waterford, but it's highly unlikely to be enough to see them into the Tailteann Cup knockout stages.
This pair entered as the two teams with the worst scoring differences (Waterford -20, Tipperary -29) which was always likely to mitigate against either progressing among the top three third-placed teams to join New York in Sunday's draw.
With such a deficit to claw back, Tipp committed numbers to attack. While both sides created an equal number of chances, the Premier had Jack Kennedy kicking most of theirs and that helped them build a 0-9 to 0-2 lead by the half-hour.
The Clonmel Commercials dangerman kicked five (0-3 from play) plus another spectacular effort from his brother Conall.
While it took Waterford 21 minutes to score, through a Darragh Corcoran free, they were carving out goal chances. Corcoran forced Michael O'Reilly into a fine low save and Jason Gleeson flicked over after they failed to make the best of another opening.
Gleeson created their 31st-minute breakthrough, with Conor Murray latching on to rifle low to the net.
That sparked a 1-2 run, a heavy blow to any hopes of Tipp clawing back their score difference disadvantage, although they steadied with one last Jack Kennedy free. 0-10 to 1-4 at half-time.
The Déise kicked on with four of the first five points to level for the first time within seven minutes of the restart. Jordan O'Sullivan could've goaled but fired over, added to by scores from Corcoran, Michael Curry, and Murray.
But huge scores from Conall Kennedy and Teddy Doyle plus two more from Darragh Brennan, one of two full debutants alongside Tipp U20 hurler James Morris, pushed Tipp back three ahead.
Murray took his total to 1-3 but Jack Kennedy was perfect from eight shots at the posts to maintain Tipp's lead.
It would come under pressure when Conall Kennedy was black-carded in the 63rd minute followed by points from Jason Curry (free) and Donal Fitzgerald.
But Kevin Fahey added the insurance score for Tipp to hold out despite a late Corcoran free.
Scorers for Tipperary: J Kennedy (0-8, 5 frees); Conall Kennedy, T Doyle, D Brennan (0-2 each); S O'Connell, K Fahey, M Russell (0-1 each).
Scorers for Waterford: C Murray (1-3); D Corcoran (0-4, 3 frees); J Curry (0-2, 2 frees), J O'Sullivan, J Gleeson, M Curry, D Fitzgerald (0-1 each).
TIPPERARY: M O'Reilly; S O'Connell (capt), J Feehan, C O'Shaughnessy; K Fahey, Colman Kennedy, J Morris; M Russell, Conall Kennedy; E Moloney, J Kennedy, L Boland; T Doyle, S Quirke, D Brennan.
Subs: P Feehan for Colman Kennedy (43), D Leahy for Quirke (51), M O'Shea for Doyle (58), K Ryan for Boland (63), W Eviston for Moloney (68).
Black card: Conall Kennedy (63-70+4).
WATERFORD: P Hunt; L Fennell, D Ó Cathasaigh, E McGrath-Butler; D Ryan (capt), B Looby, J O'Sullivan; M Curry, B Lynch; C Murray, D Corcoran, J Curry; M Kiely, J Gleeson, S Whelan-Barrett.
Subs: T O'Connell for Whelan-Barrett (48), D Fitzgerald for O'Sullivan (54), J Devine for Gleeson (58), C Walsh for Ó Cathasaigh (70+2).
Referee: S Mulhare (Laois).
---
Team News
The Waterford Senior Football Team to play Tipperary in Saturday's Rd 3 of the Tailteann Cup has been announced!
Best of luck to Manager Ephie, the management team, Captain Dermot and all the players

Waterford 🆚 Tipperary
🗓️ Sat 3rd June 2023
📌Páirc Uí Chaoimh, Cork
🕚 1:00PM pic.twitter.com/R8h7fvOLLt

— Waterford GAA (@WaterfordGAA) June 1, 2023
WATERFORD (SFC v Tipperary): P. Hunt; L. Fennell, D. Ó Cathasaigh, E. McGrath-Butler; D. Ryan (c), B. Looby, J. O'Sullivan; M. Curry, B. Lynch; C. Murray, D. Corcoran, J. Curry; M. Kiely, J. Gleeson, S. Whelan-Barrett.
Subs: A. Beresford, T. O'Connell, C. Walsh, J. Devine, C. Maguire, D. Fitzgerald, J. Veale, J. Keane, C. Ó Cuirrín, N. McSweeney, D. Queally.
— Tipperary GAA (@TipperaryGAA) June 2, 2023
Tipperary: Michael O'Reilly (Clonmel Commercials), Shane O'Connell (Capt., Golden/Kilfeacle), Jimmy Feehan (Killenaule), Colm O'Shaugnessy (Ardfinnan), Kevin Fahey (Clonmel Commercials), Colman Kennedy (Clonmel Commercials), James Morris (Clonmel Commercials), Mark Russell (Aherlow), Conal Kennedy (Clonmel Commercials), Emmet Moloney (Drom/Inch), Jack Kennedy (Clonmel Commercials), Luke Boland (Moyle Rovers), Teddy Doyle (Ballina), Sean O'Connor (Clonmel Commercials), Darragh Brennan (Ballyporeen).
Subs: Cian O'Mahony (Ardfinnan), Dean Carew (Upperchurch/Drombane), Rory Collins (Moyle Rovers), Willie Eviston (Loughmore/Castleiney), Paudie Feehan (Killenaule), Donough Leahy (Arravale Rovers), Jack Nevin (JK Brackens), Mikey O'Shea (CJ Kickhams, Mullinahone), Eoghan Power (Ballina), Stephen Quirke (Moyle Rovers), Keith Ryan (Upperchurch/Drombane).