2023 AIB Munster Club Intermediate Hurling Championship Semi-Final – Corofin (Clare) 1-19 Dromin-Athlacca (Limerick) 1-15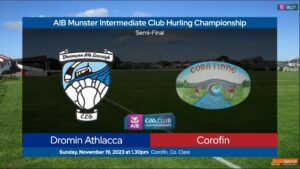 Corofin (Clare) defeated Dromin-Athlacca (Limerick) by 1-19 to 1-15 in the AIB Munster Club Intermediate Hurling Championship Semi-Final on Sunday November 19th at Corofin.
---
Match Highlights
HIGHLIGHTS | Watch as @CorofinGAAClub progress to Munster Club IHC Final with impressive victory over @DromAthlaccaGAA. @streamsporti | @aib_GAA https://t.co/cmVCXt5kRF

— Munster GAA (@MunsterGAA) November 19, 2023
---
Limerick champions Dromin-Athlacca lose out to Corofin in Munster club IHC semi-final
Report by John Reddington for the Irish Examiner newspaper
A GOAL conceded just as they were making a late attempt to bridge the gap brought an end to Dromin-Athlacca's intermediate hurling season as they crashed out of the Munster club intermediate hurling championship after suffering a 1-19 to 1-15 defeat to Corofin, of Clare, in their semi-final played in Corofin on Sunday afternoon.
Despite trailing from the first minute, it had looked up to that point that the Limerick champions might finally get their noses in front of the Clare representatives.
However, their chances of exploiting the gusting wind at their backs on the run-in were severely affected by going a man down to a straight red card right on the end of regulation time and, while they still had another four minutes to bridge the gap, the extra pair of legs allowed the home defence to hold them at bay.
In the end, the result boiled down to Corofin's greater ability to score from play where they picked off fourteen points as opposed to Dromin-Athlacca, who relied heavily on the free-taking of county star Dave Reidy, who accounted for six.
Had Dromin-Athlacca prevailed, they would have thanked a soft goal just before the break that reduced Corofin's lead of five points back to two but, between the determination of opposing full-back line and the sporadic showers, they could never build up enough momentum to get ahead.
The conditions gave Corofin the range to strike straight from the throw-in and, although Gearóid Cahill's point was quickly replied to by scores from Jack Fitzgibbon, James Organ, Micheál Kelly, Diarmuid Cahill and Organ again gave the home side a lead of substance.
However, after two Dave Reidy frees halved the gap by the quarter hour mark, another burst of scores from Gearóid Cahill and Gearóid Kelly, from a free and from play, gave Corofin some reward from the conditions.
The Banner side pressed forward to rebuild their lead in the four added minutes but their only reward was Organ's strike leaving them leading 0-11 to 1-6 at the break.
Fitzgibbon pointed right from the restart, but Diarmuid Cahill made Corofin's intentions clear when immediately striking back with a pair of individual points before Kelly replied to Reidy's free.
Two more Reidy frees brought the gap back to the minimum and Dromin-Althlacca missed a great chance to finally hit the front when blowing the chance of punishing a defensive fumble.
Kelly added another point for the Clare champions to leave the hosts back leading by two before Micheál Kelly blasted Dromin-Athlacca's ambitions apart by racing in through the challenges from the left, before drilling the sliotar in the far corner of the net from the tightest of angles.
Athlacca pulled themselves together for a final push and drew a pair of frees for Reidy to punish with points. A dust-up saw Shane Scully getting sent off and the numerical advantage allowed the Claremen to ease their way towards the line.
Kelly gave them an insurance score as did Shane O'Brien following Reidy's pointed free in reply.
SCORERS: COROFIN: Gearóid Kelly 0-8 (5 frees), Micheál Kelly 1-1, James Organ 0-4, Gearóid Cahill, Diarmuid Cahill 0-2 each, Shane O'Brien 0-1; DROMIN-ATHLACCA: Dave Reidy 0-10 (9 frees), David Breen 1-0, Daniel Scully 0-3, Jack Fitzgibbon 0-2.
COROFIN: Liam Corbett; Marc O'Loughlin, Killian O'Connor, Damien O'Loughlin; Damien Ryan, Fionn Clancy, Cillian McGoary; Conor Leen, Gearóid Cahill; Gearóid Kelly, Micheál Kelly, Kevin Keane; Diarmuid Cahill, James Organ, Shane O'Brien.
SUB: Eoin Davoren for Fionn Clancy (41 minutes).
DROMIN-ATHLACCA: James Kelleher; Mark Fitzpatrick, William Dore, Shane Scully; Shane Fitzgibbon, Peter Ryan, Shane Rabbitt; Micheál Reidy, David Reidy; Daniel Scully, David Griffin, Peter McMahon; Seán O'Leary, David Breen, Jack Fitzgibbon.
SUBS: Cian Scully for Peter Ryan (injured, 2 minutes), David Mullins for Seán O'Leary (50 minutes).
REFEREE: Nicky O'Toole (Waterford).
---
Live Streaming Information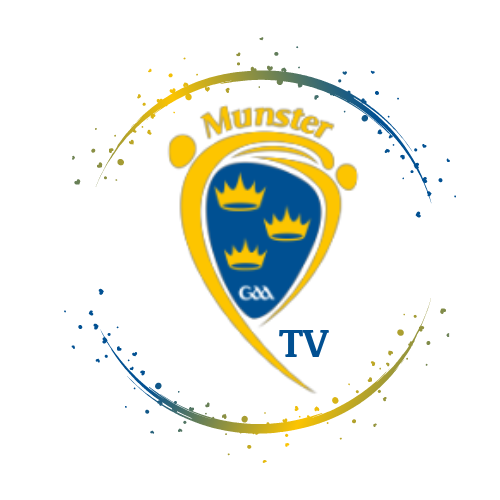 This game will be streamed live by Munster GAA TV at a cost of 10 euro.
Click here to purchase Live Streaming for this game
---
Ticket Information
---
Parking and Traffic Arrangements
*Important Information – Parking and Traffic Arrangements*
Munster Intermediate Hurling S/F Corofin v Dromin-Athlacca, Sunday Nov 19th, 1:30 @ Páirc Finne*
For Corofin supporters and supporters from nearby Clubs and Parishes, please note the following 4 parking and traffic ./more

— Corofin GAA (@CorofinGaaClub) November 17, 2023