2023 Allianz Football League Division 2 – Derry 0-14 Clare 0-4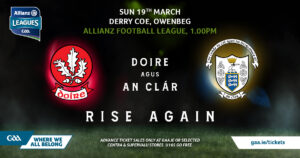 Derry defeated Clare by 0-14 to 0-4 in the Allianz Football League Division 2 on Sunday March 19th at Owenbeg.
---
Derry cruise into top flight against listless Clare
Allianz FL Division 2Derry 0-14 Clare 0-04
Report by Michael Wilson for the Irish Examiner newspaper
Ulster champions Derry are back in Division One for the first time since 2015 after a comfortable 10-point victory over Clare in front of 4,127 spectators in Owenbeg on Sunday.
Rory Gallagher's men were in charge from the first whistle against a Clare side that never asked any serious questions, the game all but over after an opening half that resembled an Oak Leaf training session at times.
The victory made it six wins from six for the Ulster champions who have looked a Division One outfit in all but name throughout a hugely impressive league campaign.
Derry made one change from the team that started against Dublin, Gareth McKinless, such an effective half-time substitute against Dublin a fortnight ago, in from the start with Padraig Cassidy dropping to the bench.
The stakes were high for both counties, the Oak Leafers seeking that return to the top flight but Clare anxious to avoid a first season in Division 3 since being promoted back in 2016.
Tactically the teams mirrored each other, both pulling every man back out of possession, but there the similarities ended. Derry were efficient, ruthless and composed while the Bannermen looked nervous and bereft of ideas in a half in which they managed only three shots, the first arriving in the 27th minute, and never troubled the scoreboard as Derry turned around with a commanding 0-9 to no score lead.
The story of the first quarter could be summed up as such; Derry seven points from eight shots after nine attacks; Clare no shots from five attacks.
The visitors had no shortage of possession but most of that was in front of Derry's defence with Colm Collins' men struggling to penetrate the home 20m line.
In contrast, Derry went through the gears at their ease, the excellent Conor McCluskey and Ethan Doherty the main accelerators for wave after wave of attack that could have yielded even more than the nine first-half points they eventually did.
A patient build-up brought Niall Loughlin the game's opening score only one minute in and from there Derry were in cruise control with keeper Odhran Lynch spending more time in the opposition half than in his own.
Loughlin's opener was added to by scores from Shane McGuigan (2), Conor Glass and Ethan Doherty as Derry were five up after 16 minutes and they had added further scores from Ethan Doherty again and Conor Doherty by the time Emmet McMahon registered Clare's first shot in the 26th minute.
A McGuigan point rounded off the first-half action with Derry having a spread of six scorers, nine points to the good and already looking every inch the Division One outfit.
Colm Collins' response to the opening half was to introduce both Cillian Rouine and Padraic Collins at half-time but Derry resumed as they had left off with McKinless fisting his first score before a Shane McGuigan free took the home advantage out to 11 points. Niall Loughlin was also unlucky to see a goal chance saved byClare keeper Stephen Ryan.
The game briefly sparked into life as a Keelan Sexton tackle prompted a bit of pushing and shoving that saw the Clare man booked along with Chrissy McKaigue and there was a black card for half-time sub Collins shortly after.
From there it was only ever about the margin of victory. Clare did manage further scores from Emmet McMahon and Dermot Coughlan but those were only academic footnotes on a totally dominant Derry display. By the end of the season there could be two divisions between these two teams and for most of this game there already looked like there was.
Derry scorers: Shane McGuigan (0-5, 1f, 1m), Ethan Doherty (0-3), Niall Loughlin (0-1), Conor Glass (0-1), Paul Cassidy (0-1), Conor Doherty (0-1), Gareth McKinless (0-1), Benny Heron (0-1)
Clare scorers: Emmet McMahon (0-2), Pearse Lillis (0-1), Dermot Coughlan (0-1)
DERRY: Odhran Lynch, Chrissy McKaigue, Eoin McEvoy, Conor McCluskey, Padraig McGrogan, Conor Doherty, Gareth McKinless, Conor Glass, Brendan Rogers, Niall Toner, Paul Cassidy, Ethan Doherty, Benny Heron, Shane McGuigan, Niall Loughlin.
Subs: Padraig Cassidy for McEvoy, 40mins; Shea Downey for C Doherty, 56mins; Matthew Downey for N Loughlin, 63mins; Conleth McGuckian for B Heron, 63mins; Niall O'Donnell for B Rogers, 67mins;
Yellow Cards: C McKaigue, 48mins;
CLARE: Stephen Ryan, Manus Doherty, Cillian Brennan, Ronan Lannigan, Ciaran Russell, Pearse Lillis, Alan Sweeney, Cathal O'Connor, Darragh Bohannon, Jamie Malone, Eoin Cleary, Dermot Coughlan, Ikem Ugweru, Keelan Sexton, Emmett McMahon
Subs: Cillian Rouine for A Sweeney, HT; Padraic Collins for I Ugweru, HT; Gavin Cooney for C Russell, 42mins; Micheal Garry for R Lannigan, 54mins; Brendy Rouine for M Doherty, 63mins;Yellow cards: C Russell, 40mins; K Sexton, 48mins;
Black Cards: P Collins, 50mins;
Referee: Paul Faloon (Down)
---
Team News
(*Amended) The Clare side who travel to Owenbeg to take on Derry in Round 6 of the Allianz Football League this Sunday . Apologies for earlier error – Emmet McMahon lines out at 15 while Podge Collins wears 19. Throw in is at 1pm . Best of luck lads 💪🟡🔵🟡 pic.twitter.com/SUbndZfVUK

— Clare Gaa (@GaaClare) March 17, 2023
Our starting lineup for Sunday's visit of Clare 🇦🇹🇦🇹 pic.twitter.com/LTC4e30AlC

— Derry GAA (@Doiregaa) March 17, 2023