2022 GAA Football All-Ireland Senior Championship Semi-Final – Kerry 1-14 Dublin 1-13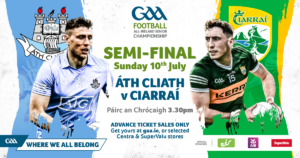 Kerry defeated Dublin by 1-14 to 1-13 in the GAA Football All-Ireland Senior Championship Semi-Final on Sunday July 10th at Croke Park.
---
Match Highlights
Watch the Full-Time Highlights of Dublin v Kerry in the All-Ireland Senior Football Championship Semi-Final here on #GAANOW pic.twitter.com/gm3WxSSMpL

— The GAA (@officialgaa) July 10, 2022
---
REPORT: Sean O'Shea displayed nerves of steel and incredible technique to seal a dramatic All-Ireland SFC semi-final win for @Kerry_Official over @DubGAAOfficial by converting a 50-yard free at the death. #GAABelong

— The GAA (@officialgaa) July 10, 2022
All-Ireland SFC semi-final: O'Shea stunner seals epic Kerry win over Dublin
KERRY 1-14 DUBLIN 1-13
Report By John Harrington at Croke Park for GAA.ie
Sean O'Shea displayed nerves of steel and incredible technique to win this dramatic All-Ireland SFC semi-final for Kerry by converting a 50-yard free at the death.
It was a wonderful score, and all the more impressive considering he was kicking into a stiff breeze and a raucous Hill 16.
But the Kenmare man made it look easy as his kick sailed over the bar with plenty to spare.
It must have been a hugely satisfying moment, particularly as he'd missed a first-half penalty that could have made this a much more straight-forward game for Kerry.
They were much the better team in that first-half and for a good portion of the second-half too, but had to do it the hard way in the end because Dublin showed such courage in the face of adversity.
Inspired by warriors like James McCarthy, Ciarán Kilkenny, and Brian Fenton, they summoned a second-half comeback that very nearly turned the game on its head.
Kerry showed character too because it would have been easy to wilt when Dublin suddenly caught fire in that second-half, and in the final reckoning Jack O'Connor's team were definitely deserving victors.
From the very start this was an absorbing contest played at an incredibly high tempo by two superbly conditioned teams.
Every turnover felt like a statement, every big hit drew loud acclaim from the supporters.
Such was the ferocity with which both teams tackled that ball handling had to be superb to transition from defence to attack successfully, and in the opening minutes both teams did that very well.
Lee Gannon opened the scoring for Dublin with a sweet point from the left side off his right foot, but Sean O'Shea responded immediately for Kerry with a nice left-footed score.
Two minutes later the powerful Kerry centre-forward did even better, scoring the first goal of the match when he charged in along the end line and shot low past Evan Comerford.
It was poor defending by Dublin to give him the latitude to get his shot off, but credit to O'Shea for backing himself to go for the jugular.
Dublin's response to this early set-back was positive. Dean Rock converted a free and then Brian Howard pointed after James McCarthy's shot at goal was well saved by Shane Ryan.
But as the half progressed, Kerry started to turn the screw. Their defending was superb as they packed their half of the pitch whenever Dublin had possession and put huge pressure on the ball.
This approach yielded a series of big turnovers that delighted the Kerry crowd and when Dublin forwards did create an opportunity to shoot they were usually doing it under pressure.
Kerry's counter-attacking gameplan was working well, and when they got the ball forward to David Clifford he showed he was very much in the groove.
He scored his first from play on 12 minutes, converted a brilliantly taken mark seven minutes later, and then scored his second from play two minutes after that to push Kerry 1-6 to 0-5 ahead.
Dublin sustained another body blow when John Small was then black-carded for an off-the-ball pull down, but Kerry didn't quite make as much of a benefit of their numerical advantage as you felt they might.
A Dean Rock free reduced the gap to three again before Kerry had a glorious chance to put real daylight between the teams when Gavin White won a penalty after being fouled in the square by Lorcan O'Dell.
Sean O'Shea fluffed his lines with the subsequent kick though, with his side-footed effort well saved by Evan Comerford.
Kerry did have the last say of the half though and it was that man David Clifford again, bullying his way past three Dublin defenders to curl over another glorious score that left the Kingdom leading by 1-8 to 0-6 at the break.
Clifford weaved some more magic right at the start of the second half to create a goal-scoring chance for Stephen O'Brien with a brilliant cross-field pass.
O'Brien probably should have kicked it first time, soccer-style, but instead tried to collect the ball on the run and fouled the ball by picking it straight off the ground.
Kerry did score the first point of the half two minutes later and once again it was that man Clifford, this time curling over another left-footed after jinking outside his marker Michael Fitzsimons.
You felt like Kerry had the wherewithal to start pulling away, but Dublin stuck grittily to the task and points from Brian Fenton and Paddy Small kept them in touch.
Then came what they really craved, a goal to blow the game wide open again.
It was a sumptuous score too. A handling error from David Moran turned over possession and Dublin swept down field with the ball eventually reaching Cormac Costello on an overlapping run.
The Whitehall man had a lot to do, but he struck his low cross-shot brilliantly to the net off the far post.
When Ciaran Kilkenny then hand-passed a point a minute later there was just a point between the teams and the roars from the Dublin supporters told you they believed this would now be their day.
Credit to Kerry, they managed the game well in the next 15 minutes, holding onto possession for concerted periods to stifle Dublin's momentum.
Paudie Clifford was having a big second-half and two points from him put a buffer between the teams again.
But Dublin just refused to die and two well taken point from James McCarthy and Ciaran Kilkenny reduced the deficit to the minimum again, 1-12 to 1-11, with seven minutes of normal time remaining.
This was now a gut-test for Kerry, and their supporters must have had their heads in their hands when Diarmuid O'Connor missed a good chance that would have put them two clear with three minutes of normal time remaining.
A brilliant Michael Fitzsimons interception then gave Dublin the impetus to find a 69th minute equaliser. It was the increasingly influential Ciaran Kilkenny who scored it, turning smartly onto his right to convert under pressure.
Sean O'Shea must have thought he'd won the game for Kerry when he won and a converted a close-range free in the fourth of five allotted minutes of injury-time.
But Dublin went straight down the field from there and won a free of that Dean Rock clipped over.
At that stage everyone in the stadium was preparing for extra-time, but Kerry showed great ambition to take the kick-out quickly, work the ball down field, and win one more free when David Clifford hauled down 50 yards from the posts.
Up stepped O'Shea to land that monster of a kick to seal the Kingdom's first championship win over Dublin since 2009 and send Kerry supporters in the stadium delirious with joy.
---
Sean O'Shea Winning Point for Kerry
Seán O'Shea sends @Kerry_Official through to the All-Ireland final thanks to a last-gasp free. pic.twitter.com/0zcuRKtmaU

— The GAA (@officialgaa) July 10, 2022
---
Scorers for Kerry: David Clifford 0-6 (1f, 1M), Sean O'Shea 1-4 (2f) Paudie Clifford 0-2, Tom O'Sullivan, Dara Moynihan both 0-1.
Scorers for Dublin: Cormac Costello 1-0, Dean Rock 0-3 (3f), Ciarán Kilkenny 0-3, Brian Fenton, John Small, James McCarthy, Brian Howard, Paddy Small, Sean Bugler all 0-1
KERRY: Shane Ryan; Graham O'Sullivan, Jason Foley, Tom O'Sullivan; Brian Ó Beaglaíoch, Tadhg Morley, Gavin White; David Moran, Diarmuid O'Connor; Jack Barry, Seán O'Shea, Stephen O'Brien; Paudie Clifford, David Clifford, Paul Geaney
Subs: Dara Moynihan for Stephen O'Brien, Killian Spillane for Paul Geaney (both 41), Adrian Spillane for David Moran (52), Paul Murphy for Graham O'Sullivan (62), Joe O'Connor for Gavin White (66)
DUBLIN: Evan Comerford; Eoin Murchan, Michael Fitzsimons, Lee Gannon; John Small, Jonny Cooper, James McCarthy; Brian Fenton, Tom Lahiff; Sean Bugler, Brian Howard, Ciarán Kilkenny; Cormac Costello, Dean Rock, Lorcan O'Dell
Subs: Paddy Small for Lorcan O'Dell (40), David Byrne for Jonny Cooper (42), Sean McMahon for Eoin Murchan (57), Niall Scully for Brian Howard (62), Cian Murphy for Michael Fitzsimons (72)
Ref: Paddy Neilan (Roscommon)
---
Team News
Team Announcement: Kerry vs Dublin – All-Ireland Senior Football Championship Semi-Final 💚💛

Full details here: https://t.co/do1EnaOjca#WeAreKerry #CiarraíAbú pic.twitter.com/KBAd5a4ni4

— Kerry GAA (@Kerry_Official) July 8, 2022
---
Dublin and Kerry last met in the semi-final in 2016 when the Dubs won by two points. The sides also met in the 2019 final which ended level, before Dublin won the replay.
It's one of the great rivalries in football and the latest instalment will be the 32nd championship meeting between the counties since they first met in 1892. Kerry have won 17 times to Dublin's 11 while there were three draws from the previous 31 clashes.
PATH TO THE SEMI-FINAL – DUBLIN
Dublin 1-24 Wexford 0-4 (Leinster quarter-final)
Dublin 1-27 Meath 1-14 (Leinster semi-final)
Dublin 5-17 Kildare 1-15 (Leinster final)
Dublin 0-21 Cork 0-10 (All-Ireland quarter-final)
TOP SCORERS – DUBLIN
Dean Rock………..1-26 (0-17 frees, 1-0 pen, 0-2 mark, 0-1 '45')
Con O'Callaghan… 2-13 (0-1 mark)
Cormac Costello…….2-7
Ciarán Kilkenny……..1-9
Brian Fenton………….0-11
PATH TO THE SEMI-FINAL – KERRY
Kerry 0-23 Cork 0-11 (Munster semi-final)
Kerry 1-28 Limerick 0-8 (Munster final)
Kerry 1-18 Mayo 0-13 (All-Ireland quarter-final)
TOP SCORERS – KERRY
Seán O'Shea………..0-19 (0-9 frees, 0-2 '45s')
Paul Geaney…………0-10 (0-2 mark)
David Clifford………..1-7 (0-4 frees, 0-1 mark)
Killian Spillane…………1-4
Tom O'Sullivan……………0-6
LAST FIVE CHAMPIONSHIP MEETINGS
2019: Dublin 1-18 Kerry 0-15 (All-Ireland final) Replay
2019: Dublin 1-16 Kerry 1-16 (All-Ireland final) Draw
2016: Dublin 0-22 Kerry 2-14 (All-Ireland semi-final)
2015: Dublin 0-12 Kerry 0-9 (All-Ireland final)
2013: Dublin 3-18 Kerry 3-11 (All-Ireland semi-final)
LAST FIVE SEMI-FINALS – DUBLIN
2021: Mayo 0-17 Dublin 0-14 AET
2020: Dublin 1-24 Cavan 0-12
2019: Dublin 3-14 Mayo 1-10
2018: Dublin 1-24 Galway 2-12
2017: Dublin 2-17 Tyrone 0-11
LAST FIVE SEMI-FINALS – KERRY
2021: Tyrone 3-14 Kerry 0-22 AET
2019: Kerry 1-18 Tyrone 0-18
2017: Mayo 2-16 Kerry 0-17 (replay)
2017: Kerry 2-14 Mayo 2-14 (Draw)
2016: Dublin 0-22 Kerry 2-14
PREVIOUS ALL-IRELAND SEMI-FINAL MEETINGS
They have met in eleven semi-finals previously with Kerry winning six to Dublin's four while one was drawn.
2016: Dublin 0-22 Kerry 2-14
2013: Dublin 3-18 Kerry 3-11
2007: Kerry 1-15 Dublin 0-16
1977: Dublin 3-12 Kerry 1-13
1965: Kerry 4-8 Dublin 2-6
1962: Kerry 2-12 Dublin 0-10
1959: Kerry 1-10 Dublin 2-5
1941: Kerry 2-9 Dublin 0-3 (replay)
1941: Kerry 0-4 Dublin 0-4 (draw)
1934: Dublin 3-8 Kerry 0-6
1932: Kerry 1-3 Dublin 1-1
DUBLIN v KERRY: DECADE BY DECADE
Eleven of 31 championship games have been in the last 21 years. Kerry won four and drew one between 2001 and 2009 but Dublin have been dominant since then, winning five and drawing one of six clashes. It leaves Kerry seeking their first championship win over Dublin since the 2009 All-Ireland quarter-final.
………………Dublin…………Kerry……….Draws
1890-99………1………………..0………………0
1900-09………1…………………1………………0
1910-19………0…………………0………………0
1920-29………1…………………1………………0
1930-39………1…………………1………………0
1940-49………0………………….1……………..1
1950-59……..0…………………..2……………..0
1960-69……..0…………………..2…………….0
1970-79……..2………………….3……………..0
1980-89……..0…………………..2……………..0
1990-99……..0…………………..0………………0
2000-09……..0…………………..4………………1
2010-19………5………………….0………………1
………………….11………………..17……………..3
---
Kerry beat Dublin by seven points in Round 2 of this year's Allianz League.
Dublin have reached the semi-final for a 13th successive year, having last failed to get there when losing to Kerry in the 2009 quarter-final. They won eight (v Mayo 2015-19, v Kerry 2013-2016, v Donegal 2011, v Tyrone 2017, v Galway 2018, v Cavan 2020) lost four (v Cork 2010, v Mayo 2012-2021, v Donegal 2014) and drew one (v Mayo 2015) of 13 games.
Jack O'Connor leads Kerry into the semi-final for the sixth time, having won the previous five in 2004-05-06-11-12.
Kerry conceded no goals in their three championship games so far against Cork, Limerick and Mayo. Dublin conceded two in their four outings against Wexford, Meath, Kildare and Cork.