2019 Lidl Ladies NFL Division 2 Final – Waterford 5-13 Kerry 1-17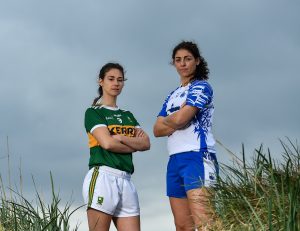 Waterford defeated Kerry by 5-13 to 1-17 in the 2019 Lidl Ladies NFL Division 2 Final on Sunday May 5th at Parnell Park Dublin.
---
🗞️ REPORT:

Five-goal @WaterfordLGFA are Division 2 champions after impressive win over @kerryladiesfoot @daraghs0 reports from Parnell Park
⤵️⤵️https://t.co/jLLH7D0K5J@lidl_ireland NFL Division 2 final#serioussupport@MunsterLGFA

— Ladies Football (@LadiesFootball) May 5, 2019
LIDL NATIONAL FOOTBALL LEAGUE DIVISION 2 FINAL
Waterford 5-13 Kerry 1-17
Report By DARAGH SMALL
Maria Delahunty scored 1-4 as Waterford were crowned Lidl NFL Division 2 champions and regained their top tier status with a goal-hungry display against Kerry at Parnell Park.
These teams will meet again next Saturday in the TG4 Munster championship and this was a huge psychological boost for Waterford ahead of that game.
Waterford were outstanding in the first-half and they ran up a 4-8 to 0-8 half-time lead, with goals from Michelle Ryan, Kelly Ann Hogan, Maria Delahunty and Eimear Fennell.
---
Is í Maria Delahunty Laoch na hImeartha

Cluiche den scoth aici agus ag an bhfoireann ar fad#SeriousSupport @WaterfordLGFA @lidl_ireland

— Ladies Football (@LadiesFootball) May 5, 2019
---
Aileen Wall grabbed a deserved goal in the second-half for Waterford and despite the best efforts of Hannah O'Donoghue and Louise Ní Mhuircheartaigh, Rosie Landers's goal remained intact until the game was over as a contest and Lorraine Scanlon scored.
Waterford went in front inside the opening minute when Delahunty scored a point and three minutes later they took control after Emma Murray gave the pass and Ryan drove low past Robyn White and into the Kerry net.
Louise Ní Mhuircheartaigh scored Kerry's first point in the fifth minute but Waterford scored 1-1 again, this time Chloe Fennell pointed and then Hogan broke through the cover and outpaced Anna Galvin to rifle her shot high into the net.
It was 2-2 to 0-1 in Waterford's favour after just seven minutes, and despite scores from Hannah O'Donoghue, Miriam O'Keeffe and Amanda Brosnan, Waterford kept their composure. They added an unanswered 1-4 between the 16th and 23rd minutes. Points from Róisín Tobin (two) and Delahunty were followed by a devastating third goal when Aileen Wall's pass was palmed to the net by Delahunty.
It was now a massive 3-7 to 0-4 advantage and the teams traded scores until Wall sprinted through and Eimear Fennell finished off a fourth goal for the dominant Déise. Ní Mhuircheartaigh and Sarah Houlihan scored the last two points of the half but Kerry trailed by 12 points at the break.
Waterford banished any thoughts of a comeback on the resumption with quick-fire points from Katie Murray and Delahunty. Houlihan and Fennell went point-for-point but Kerry needed goals and after O'Donoghue doubled her tally she saw her goal bound effort stopped on the line by a cluster of Waterford bodies.
Kerry's hopes were dashed when Wall scored a fifth Waterford goal after Eimear Fennell's shot crashed off the crossbar in the 47th minute. Scanlon finally scored a Kerry goal eight minutes later, when O'Donoghue crossed and she bundled the ball past Landers, but that was only a consolation.
🏆🏆🏆🏆🏆🏆🏆🏆🏆🏆🏆🏆🏆🏆 https://t.co/ZNwwyTfeCw

— Waterford LGFA (@WaterfordLGFA) May 5, 2019
Scorers – Waterford: M Delahunty 1-4 (0-1f), M Ryan 1-1, E Fennell 1-1, A Wall 1-1, KA Hogan 1-0, R Tobin 0-2, K Murray 0-2, C Fennell 0-1, A Mullaney 0-1.
Kerry: S Houlihan 0-6 (0-4f), L Ní Mhuircheartaigh 0-5 (0-3f), L Scanlon 1-0, H O'Donoghue 0-2, M O'Keeffe 0-2, A Brosnan 0-1, F Tangney 0-1.
Waterford: R Landers; R Casey, C McGrath, M Dunford; R Tobin, Karen McGrath, Kate McGrath; M Ryan, KA Hogan; E Murray, K Murray, M Delahunty; E Fennell, C Fennell, A Wall.
Subs: A Mullaney for Dunford (36), S Dunphy for E Fennell (60), C McCarthy for Tobin (63).
Kerry: R White; T Breen, A Desmond, C O'Brien; S Murphy, A O'Connell, A Galvin; L Scanlon, A Brosnan; C Murphy, H O'Donoghue, N Carmody; S Houlihan, L Ní Mhuircheartaigh, M O'Keeffe.
Subs: K Cronin for White (26), S Lynch for S Murphy (26), F Tangney for O'Keeffe (34), E Dineen for Galvin (45), E Lynch for Desmond (60).
Referee: G Chapman (Sligo).
---
Admission prices
Adults: €15
Students/OAP's: €5
Juveniles/Children: €2
Tickets can be purchased online at http://lgfa.tickets.ie/ and the Final will be broadcast Live by TG4. Tickets will also be available at both venues on the day.
---
Fixture Details
Lidl Ladies NFL Division 1 Final: Cork v Galway; Parnell Park, 4pm – Sunday May 5
Lidl Ladies NFL Division 2 Final: Kerry v Waterford; Parnell Park, 2pm – Sunday May 5
---
📹 Video: 'There's not going to be much between us' – @kerryladiesfoot's Amanda Brosnan (@broz89) is expecting an exciting battle with @WaterfordLGFA in the @lidl_ireland NFL Division 2 Final in Parnell Park on Sunday at 2pm. #SeriousSupport

— Ladies Football (@LadiesFootball) May 1, 2019
---
Match Preview
2019 LIDL NFL Division 2 Final – SUNDAY
Kerry v Waterford; Parnell Park, Dublin, 2pm (G Chapman, Sligo) – LIVE TG4
Promotion to Division 1 of the Lidl Ladies National Football League is the big prize on offer for Kerry and Waterford at Parnell Park on Sunday afternoon.
The Munster counties meet in the Division 2 showpiece – just six days before their Round 1 clash in the TG4 Munster Championship.
The winners on Sunday would have a distinct psychological advantage ahead of their Championship clash – and safe in the knowledge that they will be playing top-flight football in 2020. The form book suggests that there will be little to separate two talented sides – with Kerry looking to bounce back to Division 1 at the first attempt.
Relegation to Division 2 for the 2019 campaign was a setback for the Kingdom but they have displayed admirable talent and skill to put themselves in a position to make a swift return to the elite Division.
The group stages were a mixed bag for Kerry, with three wins, two draws and two losses, but they still did enough to reach the semi-finals. There, Kerry opened up with an impressive display against an admittedly under-strength Armagh, and now they'll prepare for the stern challenge of Waterford, who have taken big strides forward in recent years.
The Déise finished with four wins, two losses and a draw from their seven group games, which pitted them with Cavan in the semi-finals. In 2018, the sides also met in the last four but this time, it was Waterford who came back on top, as experienced forward Michelle Ryan collected a hat-trick of goals.
This is a first League decider for Waterford since victory over Tipperary in the 2016 Division 3 Final, a game that was decided by Maria Delahunty's late free at Semple Stadium.
Kerry's last League title was achieved in 2013, when they beat Galway in the Division 2 Final. These two sides drew in the group stages – and it could be just as tight again. Kerry have drafted in former TG4 All Star Aislinn Desmond in defence in place of Emma O'Sullivan, while Chloe Fennell comes in for Katy Hayes on the Waterford team.
---
Team News
Kerry (v Waterford): R White; T Breen, A Desmond, C O'Brien; S Murphy, A O'Connell, A Galvin; L Scanlon, A Brosnan (capt.); M O'Keeffe, C Murphy, N Carmody; S Houlihan, L Ní Mhuircheartaigh, H O'Donoghue.
Waterford (v Kerry): R Landers; Karen McGrath (capt.), C McGrath, R Casey; Kate McGrath, M Dunford, R Tobin; K Murray, E Murray; K.A. Hogan, M Ryan, C Fennell; E Fennell, M Delahunty, A Wall.