In the first of our player profiles, we meet Steven Casey from Bruff, County Limerick
Player: Steven Casey
Age: 34
Team Position: Forward
Favorite Song: Mr Jones by Counting Crows, Babylon by David Gray
Film: Pulp Fiction
Hobbies: Producing and presenting radio shows.. in between wheelchair hurling training
Best player you have played with: Ellie Sheehy, Cian Horgan
Best player you have played against: Pat Carty
Favourite moment from wheelchair hurling/camogie: June 28th, 2014, I played in goals. We played the 3rd round of the league in UL Arena in front of friends and family. After years on the sideline, having friends and family there supporting me and my team, that was a sporting highlight for me. We kept a clean sheet in that round. Connacht were awarded a penalty. I saved it.
Biggest influences in the club: The coaches and the junior players
Advice for players or any member of the club? Go out there and enjoy yourselves, right!? – Timmy Ryan
Teams you play for: Munster GAA, but, in 2012 I got to put on the Limerick jersey for a challenge match against a Dublin side. We beat them 2:0 – 0:0
What are your strengths & weaknesses as a player: I can read the game well but I need to work on my speed and accuracy.
What is your favourite and least favourite position to play: I like playing forwards. I did not like goals because when things go against you, you are the last line of defence.
If you were throwing a party and you could invite anyone in the world, from the past or present, who would you ask?
Tom Bulfin and Frank Hussey are two teachers I had in school who influenced my passion for writing and inclusion in sport. I'd just like to thank them for their support.
Player to watch from other teams? Alex Hennebry
Best memory playing for Munster: As well as the home round in UL Arena in 2014, watching Maurice Noonan score that penalty in 2019 to win our 3rd All Ireland title.
Game to forget playing for Munster? When I played in goals, during a league round, Leinster scored. I got annoyed and pucked the ball out only for it to bounce off their forward and back in to the net.
Most unusual item in your kit bag: 1st All Ireland medal.
Best thing about being part of the GAA? After two decades on the sideline, watching friends and family play the game, it is great to be playing here where we all belong.
If you were not playing GAA what would you do? I would be producing and presenting my radio show.
What are you doing to pass the time during the Covid-19 pandemic? Netflix and researching topics for my radio show
Who spends the most time in front of the mirror in the dressing room? Sultan Kakar
Who is the biggest joker in the team you play for? Maurice Noonan and Kieran Bennis share that role. They are fine singers too.
Favourite hurler or camogie player? Bruff GAA's Sean Finn
Hopes for the future: Use my platform as a player and radio presenter to promote inclusion in sport.
---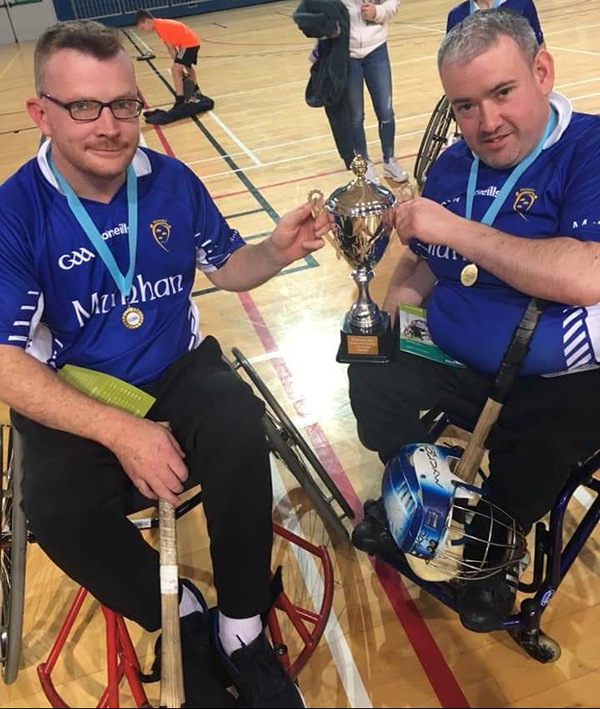 Kieran Bennis (left) and Steven Casey with the teams 3rd All Ireland "M Donnelly" trophy