The 2019 Munster Under 15 Hurling Development Squad Blitzes will take place over the May Bank Holiday weekend.
13 Divisional squads will take part split in to four groups on Saturday May 4th at Ballinlough, Claughaun, Mallow and Clarecastle with games starting at 11am.
The winner of each of the four groups will progress to the semi-finals on Monday May 6th at 11am in Mallow with the Final and Plate Final taking place at 12:30pm in the same venue.
---
Group 1 Results
West Waterford 1-15 South Tipperary 0-12
Cork City 5-22 South Tipperary 2-5
Cork City 4-15 West Waterford 0-10
Group 2 Results
East Cork 3-28 North Clare 1-9
East Cork 4-15 City/West Limerick 2-13
North Clare 6-14 City/West Limerick 3-18
Group 3 Results
East Waterford 2-11 East Clare 1-11
Mid/West Cork 5-16 East Clare 1-10
Mid/West Cork 3-21 East Waterford 2-12
Group 4 Results
North Cork 2-9 South/East Limerick 0-12
Mid Clare 0-12 North Tipperary 1-6
North Cork 2-8 Mid Clare 1-7
South/East Limerick 3-15 North Tipperary 1-4
North Cork 1-16 North Tipperary 0-8
South/East Limerick 4-11 Mid Clare 0-5
Semi-Final Results
East Cork 2-11 Cork City 1-13
Mid/West Cork 2-13 North Cork 1-8
Final Results
Cup Final – East Cork 1-14 Mid/West Cork 2-7
Shield Final – North Cork 4-13 Cork City 0-8
---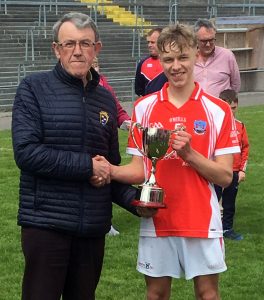 East Cork Captain Colm O'Brien receiving the cup from Munster GAA Chairman Liam Lenihan
---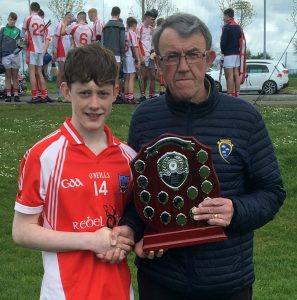 North Cork Captain Jamie Magnier receiving the shield from Munster GAA Chairman Liam Lenihan
---
2019 Munster Under 15 Development Squad Blizes – Fixtures / Rules
---