Feb 12
Kildare defeated Cork by 1-14 to 1-8 in Round 2 of the Allianz Football League Division 2 on Sunday February 12th at Newbridge.
---
#AllianzLeagues Division Two triumph for @KildareGAA against @OfficialCorkGAAhttps://t.co/mSeTO3E1Ki

— The GAA (@officialgaa) February 12, 2017
Allianz FL D2: Kildare maintain impressive start
Allianz Football League Division Two
KILDARE 1-14 CORK 1-8
Report by Brendan Coffey for GAA.ie
Kildare continued their fine start to the league with an impressive six-point win at home against a disappointing Cork side.
Behind by five at half-time, 8-3, Cork got back within two points with 15 minutes to go, but Kildare crushed any hopes of a comeback. In a stirring finish, they kicked five points to secure the win their performance deserved.
While Kevin Feely was the conductor for Cian O'Neill's side in midfield, Ben McCormack was the star man in attack and netted a superb goal in the 51st minute to crown another superb individual display.
McCormack's goal gave Kildare a seven-point cushion but Cork had their best spell in the next 10 minutes and when Luke Connolly's long range effort deceived Mark Donnellan and dropped into the net, the Rebels had a lifeline.
Kildare's response was telling and they reeled off three points on the trot to put the result beyond doubt, cementing their place at the top of the table.
On a bitterly cold afternoon in Newbridge, the home side gradually took control in the opening half and built a five-point cushion after 25 minutes in testing conditions.
The wind chill was as much of a factor as the strength of the breeze and it was no surprise that it took 15 minutes for this contest to come to life.The elements did favour Kildare in the opening half but it was never as simple as shooting from long range. Both sides were reluctant to take on shots from distance and with six wides apiece in the opening half, their caution was understandable.
Cork had the better of the early exchanges and held a strong defensive line across the middle. Although Kildare had the first score courtesy of Daniel Flynn, Cork moved ahead when Luke Connolly and Colm O'Neill pointed frees – O'Neill the instigator for both scores.
Once Kildare got to grips with their opponents in midfield, the game turned in their favour. Kevin Feely was the lynchpin, winning a succession of marks and directing the play like a quarterback. He also chipped in with two points from play as Kildare won the primary battle.
Corner forward Ben McCormack pointed his first effort of the game and he landed his second five minutes later. Feely's brace gave Kildare a 7-2 lead after 25 minutes and at that stage, Cork had gone 15 minutes without a score.
They were not short of chances though and two separate occasions, Ian Maguire came through from midfield to threaten the Kildare goal. Each time he came away empty handed and Cork were left to chew on a five-point deficit at the break.
Kildare's interval lead should have been greater and apart from six careless wides, Daniel Flynn was denied goal by a flying save from Ryan Price in the first minute.
Overall, Kildare could only be thrilled with the outcome as they dispatched one of the leading teams in this Division with some ease.
Scorers for Kildare: B McCormack 1-2, N Flynn 0-5 (3fs), K Feely 0-2, P Cribbin 0-2, D Flynn 0-1, T Moolick 0-1, C Healy 0-1 (f).
Scorers for Cork: L Connolly 1-3 (2fs, 145), C O'Neill 0-1 (f), T Clancy 0-1, P Kerrigan 0-1, B O'Driscoll 0-1, A Walsh 0-1,
KILDARE: Mark Donnellan; Mick O'Grady, David Hyland, Ollie Lyons, Johnny Byrne, Eoin Doyle, Keith Cribbin; Kevin Feely, Tommy Moolick; Fergal Conway, Niall Kelly, Paul Cribbin; Neil Flynn, Daniel Flynn, Ben McCormack
Subs: Cathal McNally for Moolick (59); Chris Healy for Conway (63); David Slattery for McCormack (67); Peter Kelly for N Kelly (70); Shea Ryan for Feely, Black Card, (70); Conor Hartley for N Flynn (70).
CORK: Ryan Price; John McLoughlin, Tom Clancy, Kevin Crowley; Conor Dorman, James Loughrey, Tomas Clancy; Ruairi Deane, Ian Maguire; Aidan Walsh, Sean Powter, Mark Collins; Colm O'Neill, Luke Connolly, Paul Kerrigan
Subs: John O'Rourke for Powter (HT); Barry O'Driscoll for Dorman (51); Donncha O'Connor for Collins (52); John Mullins for Crowley (54); Donal Og Hodnett for Maguire (60); Brian O'Driscoll for O'Neill (68).
REFEREE: Cormac Reilly (Meath).
---
Kildare's 100% Division 2 intact after win over Cork
Report by John Fogarty for the Irish Examiner newspaper
Kildare 1-14 Cork 1-8
Kildare overcame a disallowed second-half goal to maintain their 100% record in Division 2 with a deserved home win over Cork.
Daniel Flynn looked to have scored a superb virtuoso 44th minute goal only for referee Cormac Reilly to disallow it on the advice of linesman Maurice Deegan. Seemingly, the ball had been taken out of play in the build-up.
The score would have put Kildare six points up but they were soon seven to the good when Tommy Mollick pointed and Ben McCormack goaled in the 51st minute, following up a wild Paul Cribbin mishit.
Kildare could have put the game away in the 55th minute only for Tom Clancy saving from McCormack with Cork goalkeeper Ryan Price beaten. Seconds later, Cork made full advantage of the let-off when Luke Connolly's shot from distance fooled Mark Donnellan, who was distracted by the presence of Ian Maguire.
Cork cut the margin to two but Neil Flynn hit back with two and despite a fine Donnellan block from Donncha O'Connor Kildare finished by far the stronger as each team lost players late to black cards.
In a forgettable first half, both teams amassed six wides and all three of Cork's points came from placed balls. Connolly's 29th minute 45 ended a 20-minute spell without a score after he and then Colm O'Neill posted early frees.
As Cork struggled to get the ball out of their half, Kildare hit them for six consecutive points. McCormack slotted over a quick brace, followed by long-range Kevin Feely efforts and Neil Flynn frees.
Cork had two goal chances late in the half but Maguire's ground shot went wide. Maguire again was involved when his attempt at a fisted point fell short only for Connolly to fail to latch onto the ball by inches for what seemed a certain goal.
Connolly was to blame for the last point of the half from Paul Cribbin after Niall Kelly pounced on his slip and Kildare turned around 0-8 t o 0-3 to the good.
Scorers for Kildare: B. McCormack (1-2); N. Flynn (0-5, 3 frees); K. Feely, P. Cribbin (0-2 each); D. Flynn, T. Moolick, C. Healy (free) (0-1 each).
Scorers for Cork: L. Connolly (1-3, 0-2 frees, 0-1 45); C. O'Neill (free), P. Kerrigan, A. Walsh, Tomás Clancy, Barry O'Driscoll (0-1 each).
KILDARE: M. Donnellan; O. Lyons, M. O'Grady, D. Hyland; J. Byrne, E. Doyle (c), K. Cribbin; K. Feely, T. Moolick; F. Conway, N. Kelly, P. Cribbin; N. Flynn, D. Flynn, B. McCormack
Subs for Kildare: C. McNally for T. Moolick (59); C. Healy for F. Conway (64); D. Slattery for B. McCormack (67); P. Kelly for N. Kelly (70); S. Ryan for K. Feely (black, 70+2); C. Hartley for N. Flynn (70+4). Black card: K. Cribbin (70+5, not replaced).
CORK: R. Price; J. McLoughlin, Tom Clancy (Clonakilty), K. Crowley; Tomás Clancy (Fermoy), J. Loughrey, C. Dorman; A. Walsh, I. Maguire; M. Collins, S. Powter, R. Deane; P. Kerrigan (c), L. Connolly, C. O'Neill
Subs for Cork: J. O'Rourke for S. Powter (h-t); Barry O'Driscoll for C. Dorman (51); D. O'Connor for M. Collins (52); J. Mullins for K. Crowley (54); D. Hodnett for I. Maguire (60); N. Coakley for C. O'Neill (63). Black card: J. O'Rourke (70, not replaced).
Referee: C.Reilly (Meath).
---
Team News
Cork Senior Football team for Sunday's game has been announcedhttps://t.co/HdvIHmqACB

— Cork GAA (@OfficialCorkGAA) February 10, 2017
The Cork Senior Football team to play Kildare in the Allianz Football League next Sunday 12th February in St Conleth's Park @ 2pm has been announced as follows
1. Ryan Price – (O Donovan Rossa)
2. John McLoughlin – (Kanturk)
3. Tom Clancy – (Clonakilty)
4. Kevin Crowley – (Millstreet)
5. Conor Dorman – Bishopstown)
6. James Loughrey – (Mallow)
7. Tomas Clancy – (Fermoy)
8. Aidan Walsh – (Kanturk)
9. Ian Maguire – (St Finbarr's)
10. Ruairi Deane – (Bantry Blues)
11. Sean Powter – (Douglas)
12. Mark Collins – (Castlehaven)
13. Colm O Neill – (Ballyclough)
14. Luke Connolly – (Nemo Rangers)
15. Paul Kerrigan – (Nemo Rangers) Captain
Subs:
16. Ken O'Halloran – (Bishopstown)
17. Barry O Driscoll – (Nemo Rangers)
18. Brian O Driscoll – (Tadhg MacCarthaigh)
19. Colm O Driscoll – (Tadhg MacCarthaigh)
20. Donal Og Hodnett – (O Donovan Rossa)
21. Donncha O Connor – (Ballydesmond)
22. Gary Murphy – (Castletownbere)
23. John Mullins – (Eire Og)
24. John O Rourke – (Carbery Rangers)
25. Kevin Davis – (O Donovan Rossa)
26. Michael Shields – (St Finbarrs)
Cian O'Neill has named his team for this Sunday's NFL game against Cork. Best of luck to the team and management.#BeThereAllTheWay pic.twitter.com/9yzMwliVE0

— Kildare GAA (@KildareGAA) February 9, 2017
Kildare
1. Mark Donnellan (Maynooth)
2. Mick O'Grady (Celbridge)
3. David Hyland (Athy)
4. Ollie Lyons (Celbridge)
5. Johnny Byrne (Allenwood)
6. Eoin Doyle (Naas)
7. Keith Cribbin (Johnstownbridge)
8. Kevin Feely (Athy)
9. Tommy Moolick (Leixlip)
10. Fergal Conway (Celbridge)
11. Niall Kelly (Athy)
12. Paul Cribbin (Johnstownbridge)
13. Neil Flynn (Maynooth)
14. Daniel Flynn (Johnstownbridge)
15. Ben McCormack (Sarsfields)
Feb 12
Kerry defeated Laois by 3-14 to 0-19 in Round 1 of the Allianz Hurling League Division 1B on Sunday February 12th at Austin Stack Park Tralee.
---
REPORT: @Kerry_Official hit three second half goals against @LaoisCLGhttps://t.co/6K65F9Mv7C

— The GAA (@officialgaa) February 12, 2017
Allianz HL Div 1B: Kerry stage dramatic comeback
Allianz Hurling League Division 1B
KERRY 3-14 LAOIS 0-19
Report by Paul Brennan for GAA.ie
Kerry pulled off a remarkable comeback against Laois with a double goal strike in the 60th minute helping them overturn a nine-point half time deficit to earn what could be a hugely significant win this afternoon.
Trailing for most of a contest against a sharper Laois team at a very cold Austin Stack Park, three second half goals gave new Kerry manager Fintan O'Connor a crucial win in front of a small crowd.
Padraig Boyle's 37th minute penalty goal made a small inroad into Kerry's 0-4 to 0-13 half time deficit but the Kingdom still trailed by six points in the 60th minute. Boyle pulled first on a loose ball to raise his and Kerry's second green flag, and when Colum Harty found the Laois net 50 seconds later Kerry, somehow, found themselves level.
Mikey Boyle's point two minutes later gave Kerry the lead for the first time, and with Laois left reeling, the home side closed out the comeback with late scores from the Boyle brothers, Shane Nolan (free), Harty and Paudie O'Connor.
The first half was a free-ridden affair largely reduced to a free taking contest between Stephen Maher and Shane Nolan, with the former winning that contest by six points to three, as Laois dominated much of the half.
Nolan's frees had kept the home side in touch, but a few errant strikes meant Kerry trailed 0-4 to 0-13 at the break, with the impressive Willie Dunphy scoring four points from play for Laois in the first half.
Kerry had played against a stiff breeze in that first half, but it still looked like they had left themselves too much to do.
Padraig Boyle won the 37th minute penalty he converted, but trailing 1-9 to 0-18 after 60 minutes Kerry were staring at an opening day defeat.
Then came that double goal strike, however, and geed up by a small, but vociferous home support Kerry kicked on and found their scoring touch to five off the last six points to hand Kerry an important win over their former boss Eamonn Kelly.
Scorers for Kerry: P Boyle 2-1 (1-0 pen), S Nolan 0-6 (5fs) C Harty 1-2, M Boyle 0-2, D Collins 0-2, P O'Connor 0-1
Scorers for Laois: S Maher 0-11 (11fs), W Dunphy 0-4, P Whelan 0-1, B Conroy 0-1, N Foyle 0-1, PJ Scully 0-1 (sl).
KERRY: A McCabe, S Weir, R Horgan, B Murphy, P Costello, P Kelly, D Dineen, P O'Connor, C Harty, J Goulding, M Boyle, D Collins, J Conway, P Boyle, S Nolan
Subs: K Carmody for J Conway (53), J O'Connor for J Goulding (70).
LAOIS: E Fleming, D Palmer, R Mullaney, P Lawlor, L Bergin, M Whelan, P Whelan, P Purcell, B Conroy, C Taylor, N Foyle, R King, W Dunphy, C Dwyer, S Maher
Subs: PJ Scully for C Taylor (57), E Lyons for P Whelan (60), S Downey for R Mullaney (63), C Healy for N Foyle (66).
REFEREE: Johnny Murphy (Limerick).
---
Team News
The Kerry Senior Hurling Team to play Laois… https://t.co/6W9gKutGqB

— Kerry GAA (@Kerry_Official) February 10, 2017
The Kerry Senior Hurling Team to play Laois in the opening round of the Allianz Hurling League on Sunday next in Austin Stack Park at 2 pm captained by Aiden McCabe of Kilmoyley is as follows:
1 Aiden McCabe (C) Kilmoyley
2 Sean Weir Crotta O'Neills
3 Rory Horgan St Brendans
4 Bryan Murphy Causeway
5 Paud Costello Ballyduff
6 Patrick Kelly Clarecastle
7 Darren Dineen St Brendans
8 Paudie O'Connor Kilmoyley
9 Colum Harty Causeway
10 Jack Goulding Ballyduff
11 Mikey Boyle Ballyduff
12 Daniel Collins Kilmoyley
13 Jordan Conway Crotta O'Neills
14 Padraig Boyle Ballyduff
15 Shane Nolan Crotta O'Neills
Fir Ionaid:
16 Martin Stackpoole Lixnaw
17 James O'Connor Abbeydorney
18 Keith Carmody Causeway
19 John Griffin Lixnaw
20 James Godley Kilmoyley
21 John Buckley Lixnaw
22 Tomás O'Connor Crotta O'Neills
23 Philp Lucid Ballyheigue
24 Billy Lyons Causeway
25 Sean Nolan Kilmoyley
26 Daniel O'Carroll Ballyduff
Feb 11
Colaiste Chriost Rí and Tralee CBS finished level after extra time on a scoreline of 1-14 to 2-11 in the Corn Ui Mhuiri Football Semi-Final Replay on Saturday February 11th at Ballyvourney. The replay is scheduled for Saturday February 18th, details TBC.
---
Tralee secure second replay
Colaiste Chriost Ri 1-14 Tralee CBS 2-11 (AET)
Report from the Irish Independent newspaper
Equalisers at the end of normal time and extra-time from Tralee CBS ensured that they will play Coláiste Chríost Rí for a third time for a place in the Corn Uí Mhuirí final.
Five unanswered second-half points, four from Cillian Myers Murray and one from Jack Ryan, looked to have turned the game Chríost Rí's way as they led by two points after 58 minutes.
Tomás O'Connor pulled one back for Tralee and then Tom Hoare was on hand to convert a levelling free.
In extra-time Chríost Rí surged ahead, but while they felt that the whistle should have gone to end the contest, Tralee were given sufficient time to win a free, which Michael Kelliher converted, meaning St Brendan's College are still waiting on their final opponents.
Goals from David Fitzmaurice and a Kelliher penalty put Tralee 2-4 to 0-4 in front in the first-half, but Darragh Kelly had an instant Chríost Rí reply and Mark Cronin's point brought them to within two at half-time.
While Tralee moved a goal ahead again in the second-half, Chríost Rí appeared to have done enough before the dramatic finale.
Scorers –
Coláiste Chríost Rí: C Myers Murray 0-8 (7f), M Cronin 0-4 (2f), D Kelly 1-0, J Ryan, D Lucey 0-1 each.
Tralee CBS: M Kelliher 1-3 (1-0 penalty, 1f), D Fitzmaurice 1-0, K Dwyer, T Hoare 0-2f each, T O'Connor, J O'Connor, G Fitzgerald, D Keane 0-1 each.
COLÁISTE CHRÍOST RÍ: D Moran; A McGowan, B Cripps, E Varian; Jack O'Brien (St Finbarr's), M Hitchmough, D Kelly; J Ryan, K Forde; M Brosnan, D Lucey, J Coughlan; M Cronin, R Dalton, C Myers Murray
Subs: L Hannigan for Coughlan (43), Jack O'Brien (Nemo Rangers) for Dalton (70).
TRALEE CBS: S Foley; J Myres, T Lynch, B Patterson; J Walsh, N O'Mahoney, S Donnellan; J O'Connor, T Hoare; T O'Connor, K Dwyer, M Scanlon; D Fitzmaurice, G Fitzgerald, M Kelliher
Subs: A Roche for Fitzmaurice (48), D Keane for Scanlon (59).
Ref: K Walsh (Clare)
---
When – Saturday February 11th at 1pm
Where – Ballyvourney
Referee – Kevin Walsh (Clare)
Next Round – The winners will play St. Brendans Killarney in the Final on Saturday February 25th.
---
Admission Prices
Adults – €5
Students / OAP's – €3
---
Results to Date
Colaiste Chriost Rí
Semi-Final – Colaiste Chriost Rí 1-18 Tralee CBS 1-18
Quarter-Final – Colaiste Chriost Rí 0-8 St Francis College Rochestown 0-6
Group B Round 1 – Colaiste Chriost Ri 0-22 Clonakilty Community College 1-4
Group B Round 2 – Colaiste Chriost Ri 3-12 Mercy Mounthawk 0-10
Group B Round 3 – Colaiste Chriost Ri 2-9 Clonmel High School 0-6
Tralee CBS
Semi-Final – Colaiste Chriost Rí 1-18 Tralee CBS 1-18
Quarter-Final – Tralee CBS 2-10 IS Killorglin 1-10
Group A Round 1 – Tralee CBS 1-15 Coláiste na Sceilge 0-11
Group A Round 2 – St. Francis College Rochestown 3-10 Tralee CBS 1-16
Group A Round 3 – Tralee CBS 1-10 Coláiste Choilm Ballincollig 0-4
---
Match Preview
Colaiste Chriost Rí and Tralee CBS will renew acquaintances on Saturday following last weekend's exciting drawn games where 80 minutes of end to end action could not separate these two well matched sides.
Colaiste Chriost Rí had the better of the opening half in last Saturday's drawn game, leading at the interval by three points before stretching that lead to five early in the second half. Tralee CBS then hit a purple patch, outscoring their Cork opponents by 1-8 to 0-1 to race in to a 1-13 to 0-11 lead with five minutes of normal time remaining. Colaiste Chriost Rí to their credit showed their considerable character and a Darragh Kiely goal and two further points brought the sides level at the end of normal time.
Tralee CBS were the better side for much of extra time, scoring five of the first six points in the additional period to lead by 1-18 to 1-14 with 7 minutes remaining. However, Colaiste Chriost Rí once again managed an improbable comeback, scoring four unanswered points to bring the sides level and force this semi-final to a replay.
Predicting a winner in the replay is a difficult proposition. Tralee CBS had longer periods of dominance in the drawn game but the character and fortitude which Colaiste Chriost Rí showed to retrieve a five point deficit and four point deficit at the end of normal time and extra time respectively could prove crucial if they can sustain this effort across the entire game. If this game is half as exciting as the drawn game, its one not to be missed by supporters of Cork and Kerry Football.
Kevin Walsh is the referee for this one with a 1pm throw-in at Ballyvourney.
---
Corn Ui Mhuiri Football Semi-Final – Colaiste Chriost Rí 1-18 Tralee CBS 1-18 – Match Report / Photos
---
Feb 12
Sligo defeated Tipperary by 2-14 to 1-16 in Round 2 of the Allianz Football League Division 3 on Sunday February 12th at Semple Stadium Thurles.
---
Costly defeat for Tipperary
Report by Jackie Cahill for the Irish Examiner newspaper
Allianz FL Division 3
Sligo 2-14 Tipperary 1-16
A costly afternoon at Semple Stadium saw Tipperary lose Jimmy Feehan to a red card, Philip Austin to injury and two precious points in the race for promotion from Division 3.
Sligo were 10 points up during the second-half but had to hang on to win by the minimum against the 14 men in front of 749 spectators in Thurles.
Kyle Cawley and Niall Murphy scored crucial first- half goals for Sligo, who made it three points from a possible four following a draw with Armagh.
Austin was stretchered off after scoring a late point and colliding with Sligo goalkeeper Aidan Devaney but the Connacht outfit suffered a big injury blow of their own when Keelan Cawley went off before half- time, with a damaged shoulder
Earlier, in the 45th minute, Feehan mistimed a shoulder on goalscorer Murphy and referee Niall Ward reached for a second yellow card for the Killenaule man.
Despite trailing 0-10 to 2-14 with 15 minutes left, Tipp could have taken something from the game.
Michael Quinlivan sent a 76th-minute free wide before Robbie Kiely's thunderous drive from distance was deflected out for a '45 byr Neil Ewing.
In the eighth minute of stoppage time, O'Halloran drifted his '45 over the crossbar and when play restarted, Ward blew for full-time.
At the break, Sligo were 2-9 to 0-8 clear – Cawley netting in the ninth minute before Murphy struck eight minutes before the break.
Tipp improved in the second half and after Austin missed a big goal chance, All-Star Michael Quinlivan finished well with seven minutes left to provide the hosts with a lift.
Tipperary manager Liam Kearns said: "We're disappointed, it didn't go for us today – we got caught with sucker goals and getting the man sent off was a real body blow.
"I think he (Feehan) tried to him a belt of a shoulder and mistimed it a bit. He had taken a couple of clatters prior to that – was he reacting to that?"
Satisfied Sligo manager Niall Carew reflected: "We rode our luck a bit – the extra man helped us but disappointed we didn't go 12 or 13 points up. Bigger teams would do that, put you to the sword."
Scorers for Sligo: Kyle Cawley 1-2, N Murphy 1-1, A Marren 0-4 (2f), M Breheny 0-3 (2f), G O'Kelly-Lynch 0-2, A Devaney (45) & C Davey 0-1.
Scorers for Tipperary: M Quinlivan 1-2 (0-2f), C Sweeney 0-5 (3f), K O'Halloran 0-4 (3f, 1 45), A Moloney 0-2, B Fox, P Austin & L Boland 0-1 each.
SLIGO: A Devaney; R Donavan, K McDonnell, N Gaughan; Keelan Cawley, N Ewing, G O'Kelly-Lynch; P O'Connor, A McIntyre; C Davey, M Breheny, J Kelly; Kyle Cawley, A Marren, N Murphy.
Subs: E McHugh for Keelan Cawley (inj., 32), S Gilmartin for O'Connor (60), S Coen for Murphy (62), J Hynes for Davey (70+4), E Connolly for Donavan (inj., 70+8).
TIPPERARY: E Comerford; A Campbell, P Codd, W Connors; K Fahey, R Kiely, J Feehan; A Moloney, M Dunne; J Keane, L McGrath, B Fox; C Sweeney, M Quinlivan, P Austin.
Subs: K O'Halloran for McGrath (h.t.), E Moloney for Fahey (50), J Kennedy for Keane (58), L Casey for Dunne (58), L Boland for Austin (inj., 69)
Referee: N Ward (Westmeath)
---
the Tipperary Senior football team to play Sligo in Round 2 of the Allianz Football League Division 3 encounter in Semple Stadium on Sunday next, February 12th at 2pm has also been announced by manager Liam Kearns.
Following on in positive fashion, Kearns keeps faith in the same team that lined out the last day as Tipp bid for a second home win in as many games.
The team lines out as follows;
1. Evan Comerford – Kilsheelan-Kilcash
2. Alan Campbell – Moyle Rovers
3. Paddy Codd – Killenaule
4. Willie Connors – Kiladangan
5. Kevin Fahey – Clonmel Commercials
6. Robbie Kiely – Carbery Rangers
7. Jimmy Feehan – Killenaule
8. Alan Moloney – Rockwell Rovers
9. Martin Dunne – Moyle Rovers
10. Josh Keane – Golden-Kilfeacle
11. Liam McGrath – Loughmore-Castleiney
12. Brian Fox (Capt.) – Éire Óg Annacarty-Donohill
13. Conor Sweeney – Ballyporeen
14. Michael Quinlivan – Clonmel Commercials
15. Philip Austin – Borrisokane
---
Sligo Team v Tipp Devaney Donavan McDonnell Gaughan K Cawley Ewing O'Kelly Lynch O'Connor McIntyre Davey Breheny Kelly Cawley Marren Murphy pic.twitter.com/wzeWBX2C7L

— Sligo GAA (@sligogaa) February 10, 2017
---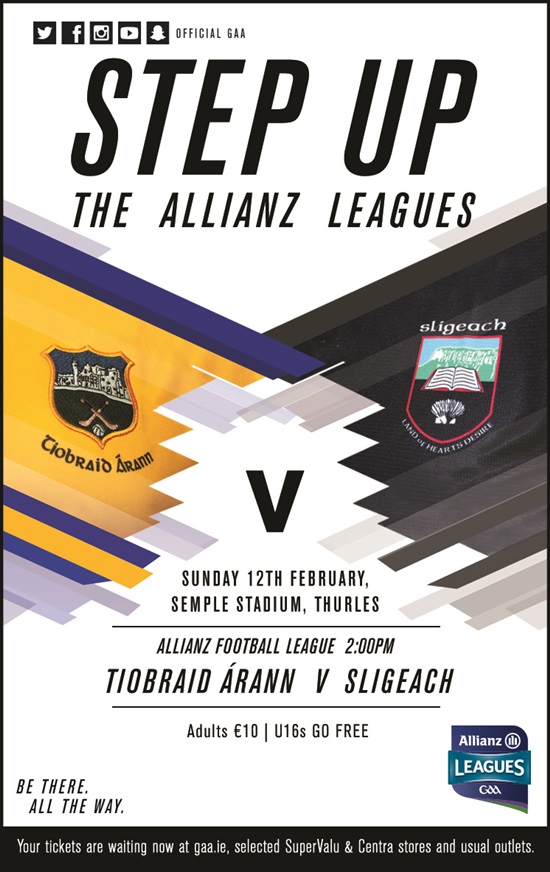 Feb 12
Clare defeated Down by 2-11 to 0-11 in Round 2 of the Allianz Football League Division 2 on Sunday February 12th at Cusack Park Ennis.
---
Collins content as Clare blitz stuns Down
Report by Gerry Quinn for the Irish Examiner newspaper
Allianz FL Division 2
Clare 2-11 Down 0-11
Clare maintained their unbeaten record in Division 2 of the Allianz Football League, defeating visitors Down at an extremely cold Cusack Park in Ennis yesterday.
Having drawn away to Derry a week earlier, Colm Collins' charges built the foundation for this victory in the opening half, going in at the half 2-7 to 0-3 in front.
Collins said after the game: "We didn't put away the chances at times but they will go in eventually, we've just got to keep making them".
He was referring to goal chances especially, as Down keeper Marc Reid pulled off a number of crucial saves throughout the tie.
Reid was alert inside 20 seconds to deny David Tubridy. But two minutes later Keelan Sexton got through for Clare and toe-poked to the net, for the opening score of the tie.
In a one-sided first half, the Banner dominated and grabbed a second goal in injury time through David Tubridy. The full-forward had missed another chance minutes earlier, when he shot over the bar with the goal at his mercy.
Reid also made an important interception on 16 minutes, when he denied Eoin Cleary yet another goalscoring opportunity.
Clare were at least raining white flags and tagged on three further points after the break through Cleary (twice) and Jamie Malone, inside five minutes.
Though they managed just one more score from then until the end, there was very little danger of them losing this clash, having done enough in the opening half.
"It was a disappointing result for us," reflected Down manager Eamonn Burns.
"We had a very strong second half but we just couldn't get in to get the goal. We gave away a goal at the beginning of the first half and another right at the end, which gave them a very strong cushion going in at half-time. It left us quite a bit to do in the second half."
Scorers for Clare: D Tubridy (1-3); E Cleary (0-4, 1 free); K Sexton (1-0); J Malone (0-3); S Collins (0-1).
Scorers for Down: C Magee (0-3, 2 frees); R Johnston (0-2); B O'Hagan (0-2 1 free); D O'Hagan, A Carr, S Millar, P Havern (0-1 each).
CLARE: Joe Hayes, John Hayes, K Harnett, M McMahon, L Markham, G Kelly, D Ryan, G Brennan (Capt.), C Russell, S Collins, K Sexton, S Brennan E Cleary, D Tubridy, J Malone.
Subs for Clare: C O'Connor for G Brennan (44), D Nagle for John Hayes (49), C O'Dea for Tubridy (54), P Lillis for Ryan (58), D Egan for Malone (64), G O'Brien for Collins (67).
DOWN: M Reid, R McAleenan, G McGovern, D O'Hagan (Capt.), C McGovern, N Donnelly, C Mooney, A Carr, J Flynn, J Murphy, C Magee, S Millar, A Davidson, P Havern, B O'Hagen.
Subs for Down: D O'Hanlon for C McGovern (h/t), C McGinn for Davidson (h/t), K McKernan for Havern (44), R Johnston for G McGovern (54), J Johnston for B O'Hagan (61), P Turley Flynn (64).
Referee: N Mooney (Cavan)
Feb 12
Westmeath defeated Limerick by 1-18 to 0-12 in Round 2 of the Allianz Football League Division 4 on Sunday February 12th at the Gaelic Grounds Limerick.
---
Westmeath back on track with easy win over Treaty
Report by John Reddington for the Irish Examiner newspaper
Allianz FL Division 4
Limerick 0-12 Westmeath 1-18
Shocked by a dropped home point against Carlow in the opening round, Westmeath got their Division Four campaign back on track when they notched up a comfortable nine-point win yesterday over Limerick in the Gaelic Grounds.
Racing into a commanding position when skipper Ger Egan converted a penalty on the quarter-hour, they were never in any serious danger despite Limerick mounting brave rallies.
With two defeats out of two, the home side have it all to do if they're to make an immediate return to Division Three as they struggled once again to contain physically superior opponents.
Westmeath made early use of the wind as Egan, Paul Sharry and David Lynch's '45' put them ahead before Brian Fanning got Limerick off the mark.
However, the home side were struggling to cope with Westmeath's running game which led Egan to convert a penalty after James Dolan was pulled down before John Egan stretched the gap to six.
Limerick picked it up as the pressure on their defence eased off and, following Ger Egan's reply to Darragh Tracey, pulled themselves back into contention as Jamie Lee sent over frees either side of Danny Neville.
However, they weren't getting the shot in quick enough and, after David Bryan saved off Lee, the Midlanders hit back through Sharry, Ger Egan and Kieran Martin before Lee's third free left his side trailing 1-8 to 0-6 at half-time.
Egan and John Heslin's free increased Westmeath's lead on the restart as did another Heslin free. However, Limerick again found a second wind with Lee's free and Brian Donovan's follow-up and, after Heslin responded, the gap was back to four as Seán McSweeney's free was followed by a pair from Séamus O'Carroll.
That was as close as they got. As Kelvin Reilly stuck the post, Johnny McCarthy picked up a second yellow and efforts from Heslin, Luke Loughlin, Shane Dempsey and Denis Glennon sealed the win for Westmeath.
Scorers for Westmeath: G Egan1-4 (1-0 p), J Heslin 0-5 (3f), P Sharry (1 '45'), K Martin 0-2 each, D Lynch ('45'), J Egan, L Loughlin, S Dempsey, D Glennon 0-1 each
Scorers for Limerick: J Lee 0-4 (4f), D Tracey, S O'Carroll 0-2 each, B Fanning, D Neville, B Donovan, S McSweeney (f) 0-1 each.
WESTMEATH: D Bryan; J Gonoud, K Maguire, M McCallon; J Dolan, F Boyle, D Lynch; P Holloway, G Egan; J Egan, P Sharry, D Corroon; K Martin, J Heslin, K Reilly.
Subs: A Gaughan for D Corroon (30m)
Feb 11
Waterford defeated Wicklow by 1-17 to 1-9 in Round 2 of the Allianz Football League Division 4 on Saturday February 11th at Carriganore, Waterford IT.
---
Crotty closes it out for Déise
Report from the Irish Independent newspaper
Tom McGlinchey praised Waterford's resolve following a second straight league victory under the lights at WIT.
Wicklow whittled down a seven-point gap to just two early in the second-half, but the league leaders re-established their dominance.
"The players showed great composure," said McGlinchey. "I'm delighted with how they finished it out."
Four points on the bounce from Brian Looby, Patrick Hurney, Paul Whyte and Donie Breathnach stabilised the home team. Substitute Gavin Crotty netted for the second week running to close it out.
Scorers –
Waterford: P Whyte 0-6 (3fs), P Hurney 0-4 (2fs), G Crotty 1-0, D Breathnach, J Veale 0-2 each, C Murray, M Curry, B Looby 0-1 each.
Wicklow: S Furlong 1-3 (1-0 pen, 3fs), R Finn 0-2, T Kelly, A McLoughlin, R O'Brien, P Byrne 0-1 each.
Waterford: S Enright 8; T Ó hUallacháin 7, T O'Gorman 7, B Looby 7; J McGrath 6, S Prendergast 7, R Ó Ceallaigh 7; T Prendergast 7, M Curry 8; M O'Halloran 6, D Breathnach 7, C Murray 6; P Whyte 8, J Veale 7, P Hurney 7
Subs: G Crotty 7 for Murray (53), L Lawlor 6 for Veale (56), F Ó Cuirrín 6 for Hurney (60), S Dalton for McGrath (65), C Maguire for Whyte (70), F Galvin for Ó hUallacháin (70).
Wicklow: M Jackson 7; C Hyland 6, P Cunningham 6, J Snell 6; D Hayden 6, S Kelly 6, J Crowe 6; A McLoughlin 7, D Healy 6; R Finn 7, R O'Brien 7, M Kenny 5; T Kelly 6, S Furlong 7, J McGrath 5
Subs: P Byrne 6 for McGrath (35, BC), P Cunningham 5 for Kenny (45), M Lennon 5 for Healy (50, BC), B Kennedy for C Hyland (65).
Ref: S Lonergan (Tipperary)
Feb 12
Waterford defeated Kilkenny by 1-15 to 0-17 in Round 1 of the Allianz Hurling League Division 1A on Sunday February 12th at Nowlan Park Kilkenny.
---
---
What's rare is wonderful for Waterford – Liam Sheedy on a successive win in the league for the Déise over Kilkenny pic.twitter.com/hLneNUFUCk

— RTÉ Sport (@RTEsport) February 12, 2017
---
REPORT: #AllianzLeagues win for @WaterfordGAA against @KilkennyCLGhttps://t.co/s7fuqHhObL

— The GAA (@officialgaa) February 12, 2017
Allianz HL Div 1A: Waterford claim encouraging win
Allianz Hurling League Division 1A
WATERFORD 1-15 KILKENNY 0-17
Report from GAA.ie
Patrick Curran's first half goal proved to be the decisive score as Derek McGrath's side got the better of the Cats at a bitterly-cold Nowlan Park, scoring their first win over Brian Cody's side in Kilkenny since 2004.
Waterford were up and running in the early stages, Pauric Mahony (2) and Conor Gleeson pushing their side 0-3 to 0-1 up inside the opening 10 minutes.
T.J. Reid narrowed the gap with a pointed free, but the hosts were rocked when Curran broke through to blast his side into a strong lead when he gathered Tom Devine's 12th minute pass and rattled the net (1-3 to 0-2).
The goal proved to be the big score of the half, but a crucial part of Waterford's display was Mahony's accuracy from frees. He posted eight points in the first half from placed balls, a run which kept the Deise in front.
T.J. Reid led the Kilkenny charge, grabbing six points in that opening half (five from frees), but Curran's goal was a hurdle they couldn't clear. Ollie Walsh sniped the last point of the half, but the Cats still trailed by four at the break (1-11 to 0-10).
Waterford didn't hang about in the second half, stretching their lead to six points thanks to early scores from Mahony and Jamie Barron. Kilkenny fought hard to narrow the gap, shooting the next four scores through T.J. Reid (0-3) and sub Walter Walsh, but they couldn't get the goal they craved to reel in the long-time leaders.
While Waterford endured something of a barren spell in the second half – they went 17 minutes without troubling the scoreboard operator – they did get back on track when Mahony and Barron put four points back between the sides late on.
Still Kilkenny wouldn't give up. Spurred on by frees from Reid and goalkeeper Eoin Murphy they battled on, making it a one-point game when Kieran Joyce fired over a good score following Richie Hogan's injury-time pass, but the Deise held out to make a winning start to their League campaign.
Scorers for Waterford: Pauric Mahony 0-10 (7fs, 265s); Patrick Curran 1-1; Jamie Barron 0-3; Conor Gleeson 0-1.
Scorers for Kilkenny: TJ. Reid 0-10, (7fs, 265s); Eoin Murphy (0-1, free); Ollie Walsh, Pat Lyng, Richie Hogan, Liam Blanchfield, Walter Walsh, Kieran Joyce 0-1 each
KILKENNY: Eoin Murphy; Joey Holden, Padraig Walsh, Conor O'Shea; Paul Murphy, Kieran Joyce, Cillian Buckley; Ollie Walsh, Conor Fogarty; Pat Lyng, T.J. Reid, Sean Morrissey; Jonjo Farrell, Liam Blanchfield, Richie Hogan
Subs: Walter Walsh for Sean Morrissey (36), Paddy Deegan for Ollie Walsh (52), Richie Leahy for Pat Lyng (55), Shane Prendergast for Cillian Buckley (60), Conor Martin for Liam Blanchfield (70).
WATERFORD: Ian O'Regan; Shane Fives, Barry Coughlan, Noel Connors; Tadhg de Burca, Stephen Daniels, Mikey Kearney; Jamie Barron, Conor Gleeson; Kevin Moran, Pauric Mahony, Michael Walsh; Patrick Curran, Tom Devine, Shane Bennett. Subs: Austin Gleeson for Mikey Kearney (52), Brian O'Halloran for Shane Bennett (55), Jake Dillon for Tom Devine (62), Gavin O'Brien for Patrick Curran (69), Shane McNulty for Stephen Daniels (70).
REFEREE: Fergal Horgan (Tipperary)
---
Team News
The Waterford Senior Hurling Team to face Kilkenny in Nowlan Park on Sunday is as follows –
1. Ian O'Regan (Mount Sion)
2. Shane Fives (Tourin)
3. Barry Coughlan (Ballygunner)
4. Noel Connors (Passage)
5. Tadhg de Burca (Clashmore / Kinsalebeg)
17. Stephen Daniels (De La Salle)
21. Mikey Kearney (Ballyduff Upper)
8. Jamie Barron (Fourmilewater)
9. Conor Gleeson (Fourmilewater)
10. Kevin Moran (De La Salle)
11. Pauric Mahony (Ballygunner)
12. Michael Walsh (Stradbally)
13. Patrick Curran (Dungarvan)
23. Tom Devine (Modeligo)
20. Shane Bennett (Ballysaggart)
Kilkenny team for Sunday v @WaterfordGAA pic.twitter.com/8f3VxuFTnV

— Kilkenny GAA (@KilkennyCLG) February 10, 2017
Feb 12
Wexford defeated Limerick by 1-14 to 0-14 in Round 1 of the Allianz Hurling League Division 1B on Sunday February 12th at Innovate Wexford Park.
---
---
Jackie Tyrrell on Conor McDonald's worth to Wexford after his starring performance against Limerick #rtegaa pic.twitter.com/U0YL7ygPEg

— RTÉ Sport (@RTEsport) February 12, 2017
---
REPORT: Good #AllianzLeagues Hurling Division 1B start for Davy Fitzgerald as @OfficialWexGAA defeat @LimerickCLGhttps://t.co/wg1vSJZ8C9

— The GAA (@officialgaa) February 12, 2017
Allianz HL Div 1B: McDonald stars for Wexford
Allianz Hurling League Division 1B
WEXFORD 1-14 LIMERICK 0-14
Report by Michael Dwyer for GAA.ie
A tally of 1-8 from Conor McDonald guided the purple-and-gold to a crucial victory over Limerick in the opening-round of the Allianz Hurling league on Sunday afternoon.
With the wind at their backs Limerick enjoyed a six-point advantage at half-time. However, Wexford's big guns rose to the challenge.
Rejuvenated by a couple of key substitutions, Wexford held the visitors scoreless for almost 20 minutes. Conor McDonald's 62nd minute goal stretched Wexford's lead to four, which was enough to hold off the challenge provided by John Kiely's Limerick.
Wexford started with a four-man rotating attack. Paul Morris, Lee Chin, Barry Carton and Conor McDonald alternated, with one taking the full-forward spot while the remaining trio took up centre-forward line positions. As a result, David Redmond and Aidan Nolan worked doggedly in defence.
However, Limerick tore through on numerous occasions in the first half. Cian Lynch and Peter Casey directed matters in attack, putting pressure on the Wexford defence.
Points from both Lynch and Casey as well as some eye-catching Seamus Hickey and Graeme Mulcahy efforts contributed to Limerick's 13th minute lead of seven-points-to-two.
Although a Conor McDonald brace offered hope for the hosts, Limerick dictated matters for the closing quarter-hour.
Following Alan Dempsey's neat interception, Declan Hannon fired over a point that was the pick of Limerick's bunch. That stroke gave Limerick a six-point lead at the break.
Although Wexford gained the advantage of the elements after half-time, Limerick were first to threaten as David Dempsey bounded through and forced Mark Fanning to pull off a great save.
While Wexford started to claw back with a trio of points, Peter Casey's pointed free maintained Limerick's lead of twelve-points-to-seven on 45 minutes.
It was Wexford who bombarded the visitors from that point onwards. Lee Chin, Aidan Nolan and Barry Carton won puck-outs for the hosts and Davy Fitzgerald made some timely replacements, including Podge Doran, Harry Kehoe, and Nicky Kirwan.
Elegant points from McDonald (two frees), Diarmuid O'Keefe and Harry Kehoe stirred Wexford retaliation before Podge Doran blasted over a 59th minute equaliser. Not even the sheeting rain could deter the home supporters from celebrating Lee Chin's epic 60th minute effort that put Wexford ahead for the first time.
Conor McDonald widened the gap to five with a quick-fire claim of 1-1. A closing Limerick brace of points could not undo the home-side's sparkling finish as Wexford fans relished a cracking first-round league victory.
Scorers for Wexford: Conor McDonald 1-8 (4fs, 1 65′), Lee Chin 0-2, Podge Doran 0-2, Harry Kehoe 0-1, Diarmuid O'Keefe 0-1.
Scorers for Limerick: Peter Casey 0-5 (3fs), Graeme Mulcahy 0-2, John Fitzgibbon 0-1 (1f), Gearóid Hegarty 0-1, Cian Lynch 0-1, Paul Browne 0-1, Seamus Hickey 0-1, Declan Hannon 0-1, Diarmuid Byrnes 0-1 (1f).
WEXFORD: Mark Fanning; Eoin Moore, Liam Ryan, James Breen; Simon Donohue, Matthew O'Hanlon, Diarmuid O'Keefe; Shaun Murphy, Aaron Maddock; Aidan Nolan, David Redmond, Barry Carton; Conor McDonald, Lee Chin, Paul Morris
Subs: Podge Doran for A Maddock (41), Harry Kehoe for P Morris (47), Nicky Kirwan for D Redmond (56), Jack O'Connor for B Carton (71).
LIMERICK: Nickie Quaid; Stephen Cahill, Richie McCarthy, Mike Casey; Diarmuid Byrnes, Declan Hannon, Seamus Hickey; Paul Browne, James Ryan; Gearóid Hegarty, Cian Lynch, Kyle Hayes; Peter Casey, David Dempsey, Graeme Mulcahy
Subs: (temp. Alan Dempsey for P Casey 30-34), John Fitzgibbon for J Ryan (44), Alan Dempsey for G Hegarty (47), Tom Morrissey for K Hayes (63), Pat Ryan for P Browne (64).
REFEREE: Diarmuid Kirwan (Cork)
---
Team News
Limerick v Wexford NQuaid SCahill RMcCarthy MCasey DByrnes DHannon SHickey PBrowne JRyan GHegarty CLynch KHayes PCasey Dempsey GMulcahy pic.twitter.com/YklFjlbDTb

— Limerick GAA (@LimerickCLG) February 10, 2017
Wexford senior Hurling team to face Limerick tomorrow is released pic.twitter.com/EkaQUXoBHw

— Limerick GAA (@LimerickCLG) February 11, 2017
Feb 11
Tipperary defeated Dublin by 1-24 to 1-8 in Round 1 of the Allianz Hurling League Division 1A on Saturday February 11th at Croke Park.
---
---
'This guy really stood out' – Jackie Tyrell was impressed by the five-point contribution of Tipperary's Aidan McCormack #rtegaa pic.twitter.com/8s3jB1jgCr

— RTÉ Sport (@RTEsport) February 12, 2017
---
MATCH REPORT: @TipperaryGAA outclass @DubGAAOfficial in #AllianzLeagues Hurling Division 1A clash. https://t.co/LF5tYjMWEt

— The GAA (@officialgaa) February 11, 2017
Allianz HL D1: Tipp outclass Dublin
Allianz Hurling League, Division 1A
TIPPERARY 1-24 DUBLIN 1-8
Report by Paul Keane for GAA.ie
All-Ireland holders Tipperary picked up where they left off last September on their return to Croke Park, outgunning Dublin with surprising ease to get their Allianz league campaign off to a flying start.
A 0-8 haul from Seamus Callanan, 1-3 from Jason Forde and a couple of excellent displays by Aidan McCormack, who reeled off 0-5 from play, and captain Padraic Maher all added up to a comfortable 16-point win.
Boss Michael Ryan went with just seven of his All-Ireland final team – the same number incidentally that a youthful Dublin retained from their last Championship game of 2016 – and came good after a slow start.
Tipp led by just five at the break but powered past Dublin in the second-half and the hosts' agony was compounded by Shane Barrett's 70th minute dismissals for two bookings.
Tipperary didn't participate in the Munster senior league pre-season competition and, perhaps as a result, took the first 20 minutes or so to get into their stride.
Dublin, who played three games in the Bord na Mona Walsh Cup, moved 0-4 to 0-1 ahead thanks to points from Niall McMorrow, Oisin O'Rorke, Fionntan MacGibb and Donal Burke.
But McCormack's 19th minute point for Tipp was the first of five-in-a-row spree from the Munster champions that put them in the driving seat.
McCormack, from the Thurles Sarsfields club, was excellent in the opening half and picked off three fine points from play, the third of which came on the stroke of half-time from out on the right wing.
Callanan, nominated for Player of the Year three years running, miscued an early point attempt in the rain sodden conditions but clipped over five first-half points from frees.
Dublin added just two points after running up that early lead and found themselves 0-11 to 0-06 down at the break. Dubs manager Ger Cunningham named three players who were minors last year – Burke, Cian O'Sullivan and Paddy Smyth – and needed his youthful side to come up with a big second-half display.
But they were blown away by Tipp's sheer ferocity and the greater experience of key players like Maher, who boomed over two great points, Callanan and Forde whose 55th minute goal killed off the contest.
Tipp outscored Dublin by 1-10 to no score at one stage in the second-half and the Sky Blues didn't score a point from open play in the entire 35 minutes. Sub Eamonn Dillon did pinch a late goal for Dublin when he volleyed in a clever ball across goals from Burke.
Scorers for Tipperary: Seamus Callanan 0-8 (8f), Jason Forde 1-3, Aidan McCormack 0-5, Padraic Maher 0-2, Tomas Hamill 0-1, Noel McGrath 0-1, Kieran Bergin 0-1, Sean Curran 0-1, Niall O'Meara 0-1, J O'Dwyer 0-1 (1f).
Scorers for Dublin: Eamonn Dillon 1-0, Donal Burke 0-3 (0-3f), Niall McMorrow 0-2, Oisin O'Rorke 0-1, Fiontan MacGib 0-1, Chris Crummey 0-1
TIPPERARY: Daragh Mooney; Donagh Maher, James Barry, John O'Keeffe; Tomas Hamill, Ronan Maher, Padraic Maher; Brendan Maher, Kieran Bergin; Steven O'Brien, Jason Forde, Noel McGrath; John O'Dwyer, Seamus Callanan, Aidan McCormack
Subs: Seamus Kennedy for R Maher (27-35), Michael Cahill for O'Keeffe (49), Sean Curran for O'Brien (52), Niall O'Meara for Callanan (55), Barry Heffernan for R Maher (56), Daire Quinn for P Maher (59).
DUBLIN: Gary Maguire; Shane Barrett, Eoghan O'Donnell, Paddy Smyth; Chris Crummey, Liam Rushe, Sean McGrath; Ben Quinn, Niall McMorrow; Donie Fox, Ryan O'Dwyer, Fiontan MacGib; Oisin O'Rorke, Donal Burke, Cian O'Sullivan
Subs: James Madden for McGrath (42), Eamonn Dillon for O'Sullivan (46), Riain McBride for Fox (49), Caolan Conway for O'Rorke (55), Alex Quinn for MacGib (63).
Ref: Paud O'Dwyer (Carlow).
---
Team News
As his side prepares to line out for the opening fixture of this season's Allianz Hurling League, Tipperary manager Michael Ryan has named his starting XV to take on Dublin in Roinn 1 in Croke Park, this Saturday, February 11th at 5pm.
With Padraic Maher (Thurles Sarsfields) previously announced as Captain, Ryan hands league debuts to Steven O'Brien (Ballina) and Aidan McCormack (Thurles Sarsfields) as Tipp commence this hurling year in the same venue where they successfully signed off the last.
The team lines out as follows;
1. Daragh Mooney – Éire Óg Annacarty-Donohill
2. Donagh Maher – Burgess
3. James Barry – Upperchurch-Drombane
4. John O'Keeffe – Clonoulty-Rossmore
5. Tomás Hamill – Moyne-Templetuohy
6. Ronan Maher – Thurles Sarsfields
7. Padraic Maher (Capt.) – Thurles Sarsfields
8. Brendan Maher – Borris-Ileigh
9. Kieran Bergin – Killenaule
10. Steven O'Brien – Ballina
11. Jason Forde – Silvermines
12. Noel McGrath – Loughmore-Castleiney
13. John O'Dwyer – Killenaule
14. Seamus Callanan – Drom & Inch
15. Aidan McCormack – Thurles Sarsfields
See the Dublin Hurler's starting XV against @TipperaryGAA in their first round of the NHL this Saturday! 5pm in Croke Park #UpTheDubs pic.twitter.com/VWZOOvFctK

— Dublin GAA (@DubGAAOfficial) February 10, 2017
---
#MatchNightLive returns this Saturday on eir Sport 1 with four live games! #AllianzLeagues pic.twitter.com/7pDGDJVRbZ

— eir Sport (@eirSport) February 7, 2017
---