Oct 04
---
Dean Ryan Cup Under 16.5 A Hurling Quarter-Final
John the Baptist Community School Hospital 5-20 St. Flannans 2-10
---
Click here to view photos from the game
---
John the Baptist Community School Hospital became the first school to qualify for the 2016 Dean Ryan Cup Under 16.5 A Hurling Semi-Finals by virtue of a comprehensive 19 point victory over St. Flannans on Tuesday afternoon.
Played in calm, overcast conditions on a resplendent St. Patricks GAA club pitch, the scene was set for a competitive game of hurling. And so it proved in the opening stages as the teams tore in to the fray from the off. With both sets of forwards on song in the first quarter, scores were plentiful and those in attendance were treated to 10 scores in the opening 10 minutes with the Hospital side edging in front by 0-6 to 0-4.
St. Flannans took the lead in the 12th minute when the impressive Darren O'Brien hit an unstoppable shot to the roof of the net following a long solo run. The response from the Hospital side was immediate, scoring 3 points in a 2 minute spell to regain the lead. Aided by the accurate free talking of Ashley Brohan, St. Flannans kept in touch and the scores were level after 22 minutes, John the Baptist Community School Hospital 0-9 St. Flannans 1-6.
The turning point arrived in the 24th minute when Conor Burke's ground shot just creeped over the line to put Hospital up by 3 points. The Limerick side would add the last three points of the half and by the interval, Hospital had a six point lead, 1-12 to 1-6.
The second half was less than a minute old when John the Baptist Community School Hospital increased their lead to 10 points. A quick point from play was followed by a green flag as Conor Burke set up Oisin O'Grady who finished with some aplomb. To their credit, St. Flannans responded almost immediately with 1-1 of their own, the goal coming from Darren O'Brien and the deficit was reduced back to 6 points, as it was at half-time.
This mini revival for the Clare College proved no more than a consolation as it turned out with the Hospital side now taking over in all sectors. Conor Burke once again rattled the Flannans net in the 38th minute and by the end of the third quarter, Hospital led by all of 12 points – 3-17 to 2-8. To add insult to injury, the Limerick side would add on another two goals before the finish. Firstly, lively centre-forward Ryan Tobin capped off a dominant display when he caught his own puckout, soloed through and finished in style to the Flannans net. A minute later, Conor Burke got his hat-trick when he rounded off a good move in the Hospital attack with a goal.
This game was over as a content long before the finish and when referee Jim Lees brought a halt to proceedings, John the Baptist Community School Hospital were 5-20 to 2-10 winners. Conor Burke (3-0) and Ryan Tobin (1-4) were impressive for the Limerick side but the best hurler on view was the Hospital midfielder Dylan O'Shea, scorer of 0-10, 3 points from play in a dominant display. Darren O'Brien was St. Flannan's best player accounting for 2-2 from play in a side which ultimately had to give second best to an impressive Hospital team.
John the Baptist Community School Hospital: Jack Franklin; Tyrique McNamara, Kyran O'Donnell, Micheal Martin; Patrick Lloyd, Brian O'Grady, Eoin O'Mahony (0-3); Dylan O'Shea (0-10, 0-7 frees), Bryan Heavey; Conor Burke (3-0), Ryan Tobin (1-4), Bradley McNamara; Oisin O'Grady (1-1), Dean Heffernan (0-2), Gerard Donworth
St. Flannans: Conor McDaid; Gearoid Collins, Kevin Keane, Jack Lyons; Eoin Wallace, Darragh Healy, Sean Danagher; Liam Halpin, Padraig Gerathy; John Finucane (0-1), Fergus Garvey, Ashley Brohan (0-6 frees); Darren O'Brien (2-2), Adam Mungovan, Bruce Piggott (0-1)
Subs: Luke Queally, Niall Glynn, Daniel Kelly, Tony Butler, Niall O'Reagan
Referee: Jim Lees (Tipperary)
Oct 09
Cratloe and Kilmurry / Ibrickane finished level in the Clare Senior Football Championship Final on Sunday October 9th at Cusack Park Ennis – Cratloe 1-9 Kilmurry / Ibrickane 0-12.
---
Ice-cool Cathal McInerney sends Clare SFC final to replay with stoppage-time free: https://t.co/kb4Rp32Lko pic.twitter.com/N2EjRWUBlV

— The42.ie (@The42_ie) October 9, 2016
Oct 09
Glen Rovers defeated Erins Own by 0-19 to 2-11 in the Cork Senior Hurling Championship Final on Sunday October 9th at Pairc Ui Rinn.
---
Glen Rovers retain Cork SHC final crown https://t.co/OwHbN9kYOz pic.twitter.com/HG8Pz4gXM0

— Irish Examiner Sport (@ExaminerSport) October 9, 2016
Glen Rovers retain Cork SHC final crown
By Eoghan Cormican, Páirc Uí Rinn for the Irish Examiner newspaper
Glen Rovers 0-19 Erin's Own 2-11
A tour-de-force performance from Patrick Horgan in the closing 10 minutes of this Cork SHC final saw Glen Rovers successfully defend their crown.
The reigning champions were 0-12 to 1-3 early in the second-half, but an unanswered 1-4 from the underdogs between the 41st and 50th minute moved Erin's Own 2-10 to 0-14 clear. Mossie O'Carroll provided the Erin's Own goal, with Eoghan Murphy hitting all four points during this spell of dominance.
Enter Patrick Horgan.
Patrick Horgan of Glen Rovers in action against Jack Sheehan of Erin's Own today.Picture: Sportsfile
The Cork senior reduced the gap to the minimum with a free and despite missing a placed ball effort in the subsequent action, he pointed from play in the ensuing passage to level matters. It was Hoggy was capitalised on poor play in the opposition defence to move the champions back in front and he added two more to close out the win.
Of their second-half tally of 0-8, the Glen forward hit 0-7.
The signs were ominous for Erin's Own at half-time as they trailed by 0-11 to 1-3. James O'Flynn, having fielded Stephen Cronin's delivery, fired home the opening goal of the contest after 20 minutes, but instead of kicking on, Glen Rovers hit the closing six scores of the half to move five clear. Four Glen wides during this period further highlighted the dominance of the reigning champions in the aftermath of O'Flynn's stroke.
Dean Brosnan finished the half with three points to his name, while Patrick Horgan raised five white flags. For the challengers from Glounthaune, Eoghan Murphy supplied their three first-half points. They rallied in the second period but were undone by Horgan's sterling finish.
Scorers for Glen Rovers: (0-12, 0-6 frees, 0-2 '65); D Brosnan (0-4); C Dorris (0-2), C O'Brien (0-1).
Scorers for Erin's Own: E Murphy (0-8, 0-5 frees, 0-1 '65); M O'Carroll (1-); J O'Flynn (1-0); C O'Mahony (0-2).
Glen Rovers: C Hickey; C Healy, S McDonnell, G Moylan; G Callanan, B Moylan, D Dooling; D Cronin, D Noonan; D Brosnan, P Horgan, D Cunningam; C Dorris, C O'Brien, D Busteed
Subs: M Dooley for C O'Brien (44 mins); G Kennefick for Busteed (45); E O'Connell for Dorris (62).
Erin's Own: S Bowen; C O'Connor, C Dooley, J Sheehan; C O'Mahony, S Murphy, S Cronin; A Power, S Kelly; R O'Flynn, C Coakley, K Murphy; E Murphy, M O'Carroll, J O'Flynn
Subs: M Collins for S Kelly (HT); C O'Callaghan for J O'Flynn (43 mins); S Horgan for Power (54).
Referee: J Larkin (Ballinora)
---
#GAA CLUB News: @GlenRovers_ complete two in a row with @OfficialCorkGAA Club Hurling Final win vs @ErinsOwn_GAA » https://t.co/FkQKKwiJl9 pic.twitter.com/glITLBba72

— The GAA (@officialgaa) October 10, 2016
Oct 12
Anthony McKelvey steers Thurles CBS to Harty win
Thurles CBS 3-17 De La Salle 1-8
Report by Ed Donnelly (info.munster@gaa.ie)
---
Check out the new Munster GAA Post Primary Schools web site
---
A dominant second half performance helped Thurles CBS to recover from a five point deficit to record a comprehensive 15 point victory over De La Salle Waterford at a sunny Clonmel Sportsfield on Wednesday.
De La Salle played with wind assistance in the first half and took the lead after just a minute with a pointed free by Harry Redmond. The Waterford school were the better side early on and further points from Redmond (free) and Cian Wadding stretched the DLS lead to 0-3 to 0-0 after 6 minutes. Both sides were an employing a sweeper at this stage which was limiting the attacking prowess of the forwards on show.
Eventually, Thurles CBS began to get back in to the game and by the end of the first quarter trailed by 0-5 to 0-3 with Thurles points coming from Anthony McKelvey, Bryan O'Mara and Cathal Bourke. Thurles were also somewhat wayward in attack, shooting from distance to try and bypass the sweeper but alas, doing so with inaccuracy as they racked up 8 first half wides to just 2 for De La Salle.
Just two points separated the teams entering first half injury time before the first goal arrived in the 31st minute. Sean Power was fouled at the expense of a penalty which was expertly scored by De La Salle captain and full-forward Thomas Doughlas to give the Waterford school a 5 point lead.
From the resultant puck out, Conor Bowe gathered possession for Thurles CBS and his speculative shot for a point dropped short and ended up in the De La Salle net to leave just two points in it at the interval, 1-6 to 1-4.
As the second half began, Thurles looked to take full advantage of the wind assistance and one of the key switches saw Thurles wing-forward Anthony McKelvey moving in to full-forward. Thurles scored three of the first four points of the second half via Darragh Woods (2 frees) and Anthony McKelvey to bring the sides level at 1-7 to 1-7 after 36 minutes.
The Mid Tipperary school were now dominating the play and a long clearance found Anthony McKelvey in a 1:1 battle with his marker in front of goal. McKelvey gathered possession and despite being pushed out wide of goal by the De La Salle defence, the Thurles forward made no mistake to score a goal and put his team in front by 2-8 to 1-7. De La Salle had a goal chance soon afterwards but Thurles corner-back Dean Carew made a brave intervention underneath his own crossbar to thwart the on-rushing De La Salle forwards when a goal looked a certainty.
That was De La Salle's last decent chance to stay in the game as Thurles scored their third goal in the 46th minute. Once again it was McKelvey, acting as an effective target man up front, gathered possession and handpassed to Darragh Woods who saw his first time shot hit the net to put Thurles in front by 3-10 to 1-8.
There was no way back now for De La Salle who failed to score for the final 24 minutes of the game. Both schools were now making numerous substitutions as the game was over a contest. McKelvey and Woods added further points, as did substitute Odhran Quirke with Thurles adding the final seven points of the game to run out comprehensive 15 point winners.
Best for Thurles CBS were Killian O'Dwyer, Michael Purcell, Bryan O'Mara, Anthony McKelvey and Darragh Woods. For De La Salle, Conor Giles Doran (before going off injured), Harry Redmond, Cian Wadding and Thomas Doughlas did well
Thurles CBS: Ewan Bourke; Dean Carew, Eddie O'Gorman, Killian O'Dwyer (Captain); James Ryan, Michael Purcell, Seosamh Ryan (0-1); Bryan O'Mara (0-1), Michael Nally; Anthony McKelvey (1-5), Darragh Woods (1-5, 0-5 frees), Conor Bowe (1-2); Eoin Barry, TJ Butler, Cathal Bourke (0-2)
Subs: Jack Fallon for Eoin Barry (34m), Odhran Quirke (0-1) for TJ Butler (46m), Jimmy Ryan for James Ryan (52m), Aaron Ryan for Nally (54m), Jason Jordan for O'Dwyer (58m)
De La Salle Waterford: Luke Power; Peter Boylan, Darragh Hogan, Ryan Duke; Harry Redmond (0-4 frees), Conor Giles Doran, Tadhg Foley; Shane Kennedy, Darragh Walsh; Kevin Hennessy, Sam Flynn, Cian Wadding (0-2); Sean Power, Thomas Doughlas (1-1, 1-0 penalty, 0-1 free), Ryan Croke
Subs: Luke Walsh for Giles Doran (30m), Dylan Finn for Croke (34m), Luke Flynn for Sam Flynn (40m), Sean Carton for Hogan (47m), Mike Hutchinson for Power (51m)
In the other Harty Cup game played on Wednesday, CBC Cork defeated Colaiste Iosaef Kilmallock by 4-17 to 1-13.
---
Check out the new Munster GAA Post Primary Schools web site
---
Oct 14
Dean Ryan Cup Under 16 ½ A Hurling Quarter-Final
Thurles CBS 1-11 Gaelcholaiste Mhuire AG 0-9
Report by Ed Donnelly (info.munster@gaa.ie)
Thurles CBS qualified for the semi-final of the Dean Ryan Cup courtesy of a hard earned victory over Gaelcholaiste Mhuire AG in a game played in the little town of Emly. This game played in the midst of a steady breeze and constant drizzle may have been low in scoring but lacked nothing in terms of honest endeavour, hard tackling and a high work ethic.
---
Click here to view photos from the game
---
Thurles CBS played with the advantage of the breeze in the opening half and it took all of five minutes for their opening score, a point from play by Jack Lanigan. The AG took until the ninth minute to open their account courtesy of a free by Seán Ó Riagáin to bring the sides level. By the end of the first quarter, Thurles led by 0-3 to 0-2 but Gaelcholaiste Mhuire AG were more than holding their own, in particular in defence. The best goal chance of the opening half arrived in the 24th minute with the teams deadlocked by 0-4 apiece and resulted in Max Hackett's effort being well saved by Daithi Ó Liathain in the AG goal. Approaching the interval, a Darren Flood free edged Thurles CBS in front and they led at the interval by 0-5 to 0-4. The statistic of 9 scores and 13 wides in the opening half (7 for Thurles CBS) illustrated the wayward shooting under pressure by both schools.
The opening stages of the second half belong to Gaelcholaiste Mhuire AG as they began to take advantage of the wind as their backs. Three unanswered points in the opening ten minutes of the second half from Ross Standún, Evan Ó Murchú (free) and Daire Ó Conaire (a free from well inside his own half) helped the Cork side in to a 0-7 to 0-5 lead.
Thurles were struggling to make inroads at this stage, in particular from placed balls but managed to get back in to the contest courtesy of two points from play in quick succession by Keith Ryan to bring the sides level heading in to the final quarter.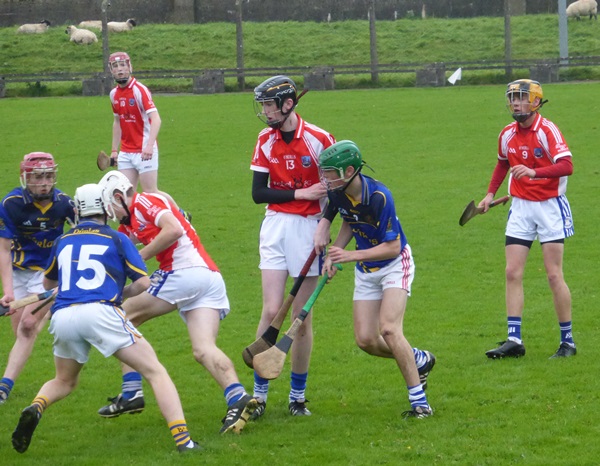 Such was the competitive nature of this game, the first team to engineer a goal was always going to be favourite to take the spoils and so it proved. Despite the presence of a number of AG defenders, Thurles CBS managed to execute a couple of quick-fire handpasses which saw the ball end up in the hand of wing-forward Max Hackett. Though closely marked, Hackett managed to get in a low shot which found the back of the net to give Thurles a 1-7 to 0-7 lead after 47 minutes.
Thurles CBS built on this crucial score with the next couple of points, both from play by Darragh Tynan and Darren Flood to cap off a 1-4 to 0-0 run in a ten minute period which would prove decisive. The AG were struggling to make any impression up front, in particular from open play as they hit 12 wides (6 in each half). The Cork school would only add a couple of Seán Ó Riagáin pointed frees to their tally in the closing stages. These points were cancelled out by two Darren Flood points for Thurles, the last one a free in injury time to wrap up a five point victory for the Tipperary side.
Thurles CBS will now play Midleton CBS in the semi-final next Wednesday at 1:30pm in Ardfinnan. Their best players on this occasion were James Synnott, Jack Hickey, Kevin Hayes, Zach Jackson and Keith Ryan in a side which hit 10 wides. For Gaelcholaiste Mhuire AG, Daire Ó Conaire at centre-back was the best player on view. Others to do well for the Cork school were Seosamh Ó Maonaigh, Seán Ó Riagáin and Evan Ó Murchú.
---
Click here to view photos from the game
---
Thurles CBS: K Bracken; J Synnott, P Melbourne, J Hickey; K Hayes, Z Jackson, K Larkin; J Morrissey, K Moloney; M Hackett (1-0), K Ryan (0-2), D Tynan (0-1); J Lanigan (0-1), D Flood (0-6, 0-4 frees), D Ryan (0-1)
Subs: E Purcell for D Ryan (40m), E Morris for Tynan (57m), J Kirwan for Lanigan (59m), D Maher for K Ryan (61)
Gaelcholaiste Mhuire AG: D Ó Liathain; S Ó Brádaigh, S Ó Maonaigh, A Ó Murchú; L Ó Murchú, D Ó Conaire (0-3 frees), L Ó Riain; R Standún (0-1), A Ó hUiginn; D Ó Teimhneáin (0-1), S Ó Riagáin (0-3 frees), E Ó Murchú (0-1 free); S Ó Coileáin, C Ó Muimhneacháin, R Ó Longáin
Referee: Mike Meade (Limerick)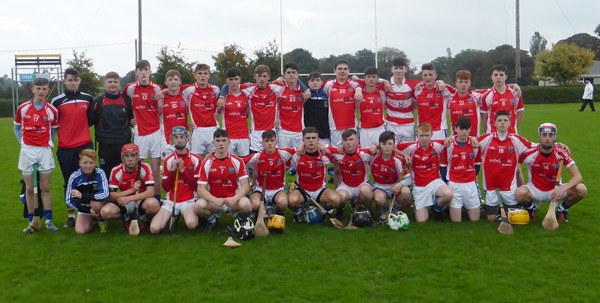 Gaelcholaiste Mhuire AG panel pictured before the game
Oct 15
Monaleen defeated Dromcollogher-Broadford by 2-14 to 1-11 in the Limerick Senior Football Championship Final on Saturday October 15th at the Gaelic Grounds Limerick.
Monaleen joint captains Donal O'Sullivan & Graham O'Connell lift the cup after the Limerick County Senior Club Football Championship! pic.twitter.com/Lu7dQ0GQhz

— Sportsfile (@sportsfile) October 15, 2016
Match report – Monaleen claim impressive Limerick SFC title with win over Drom-Broadford. Details here… https://t.co/flZnTFKzEC #GAA

— Jerome O'Connell (@JeromeSport) October 15, 2016
Oct 16
Clonlara and Ballyea finished level in the Clare Senior Hurling Championship Final on Sunday October 16th at Cusack Park Ennis on a scoreline of 1-11 to 1-11.
Oct 16
Oct 16
Thurles Sarsfields defeated Kiladangan by 0-27 to 1-15 in the Tipperary Senior Hurling Championship Final on Sunday October 16th at Semple Stadium Thurles.
---
REPORT: @TipperaryGAA SHC glory for @thurlessars https://t.co/1LUPCON4LR pic.twitter.com/J5FrJX5uUB

— The GAA (@officialgaa) October 16, 2016
Tipperary SHC: Thurles Sarsfields retain title
Thurles Sarsfields 0-27 Kildangan 1-15
By Jackie Cahill at Semple Stadium for GAA.ie
Thurles Sarsfields are Tipperary senior hurling champions for a 35th time. On the day 'The Blues' lost a club legend, Mickey 'The Rattler' Byrne, they stormed to a third title in a row at Semple Stadium, defeating Kildangan by nine points.
It's the first time that Sars have put three successive crowns together since the 1960s and they march on an AIB Munster club quarter-final clash with the Waterford representatives in a fortnight's time. This was impressive stuff from Sars on a day when they had scoring contributions from eight players.
Pa Bourke topped the list with nine points, including seven frees, as Aidan McCormack and Richie Ruth rattled over 11 from play between them. There was also a man-of-the-match display in defence from Ronan Maher, who put over arguably the score of the game in the 43rd minute from a sideline ball, almost 70 metres out.
In front of 6,546 spectators, Sars established a 0-15 to 0-6 interval lead and were in cruise control. Within the opening ten minutes, they had nine points on the board, Ruth knocking over four of those in a blistering start. It took Kildangan, appearing in their first Dan Breen decider since 1938, until the 21st minute to register their opening score from play, Willie Connors on target, but it was token response as Sars kept the scoreboard ticking over.
On a number of occasions, goal opportunities were there to be exploited as Sars broke from deep positions, but they were content with points instead. Former Hurler of the Year Lar Corbett got in on the scoring act with a long-range special in the 21st minute and while Kildangan did score three of the last five points of the first half, the men from the North were facing an uphill battle ahead of the second half. They were 12 points behind, 0-9 to 0-21, before Joe Gallagher hammered home a consolation goal in the 46th minute.
Scorers for Thurles Sarsfields: P Bourke 0-9 (7fs), A McCormack 0-6, R Ruth 0-5, R Maher (1 sl) and C Lanigan 0-2 each, S Maher, S Lillis and L Corbett 0-1 each.
Scorers for Kiladangan: D Egan 0-6 (5fs), J Gallagher 1-1, W Connors 0-3 (1 65s) R Gleeson 0-2, J Horan, P Flynn and T Gallagher 0-1 each.
Thurles Sarsfields: P McCormack; M Cahill, S Lillis, S Maher; D Maher, P Maher, R Maher; S Cahill, B McCarthy; T Doyle, A McCormack, P Bourke; C Lanigan, R Ruth, L Corbett
Subs: R Dwan for D Maher (50), J Maher for Lanigan (52), D Kennedy for Corbett (59), K O'Gorman for Ruth (60+3).
Kildangan: B Hogan; J Quigley, H Flannery, F Hayes; D Sweeney, A Flynn, D Moran; J Horan, M Minehan; J Gallagher, W Connors, R Gleeson; T Gallagher, D Egan, P Flynn
Subs: J Loughnane for Minehan (24), E Kelly for Horan (45).
Referee: J McCormack.
---
Thurles Sarsfield honour memory of 'The Rattler' with emphatic win over Kildangan https://t.co/0jxvvK3tpq pic.twitter.com/TsuRZAWZhO

— Irish Examiner Sport (@ExaminerSport) October 16, 2016
Oct 16
Dr. Crokes defeated Kenmare District by 2-16 to 1-12 in the Kerry Senior Football Championship Final on Sunday October 16th at Fitzgerald Stadium Killarney.
---
Dr Crokes secure fifth Kerry SFC title in seven years with win over Kenmare District https://t.co/SbCZu0t0zf pic.twitter.com/xM7JcnOxHg

— Irish Examiner Sport (@ExaminerSport) October 16, 2016
---
County Championship Final@DistrictKenmare V @drcrokesgaa pic.twitter.com/3wq9pqFfvV

— Kerry GAA (@Kerry_Official) October 13, 2016
---
Match Day Arrangements
Dr Crokes V Kenmare District in Fitzgerald Stadium on Sunday next October 16th at 3:30pm
Referee: Brendan Griffin (Clounmacon)
Preceded by
The Castleisland Mart Junior Premier Football Championship Final between Na Gaeil and Glenbeigh-Glencar at 1:30pm;
Referee: Donal Casey (Scartaglen)
Tickets for Sunday's double bill will be available at the Ticket Buses or may be pre-purchased and are now on sale in participating Centra and Supervalu Stores, including Garveys Supervalu Stores, Kerry County Board office and the Kerry GAA Store in Killarney.
Admission Prices
Adult €15
OAP/Student concession €5 on the day with valid ID
U16s are Free
Official Programme is produced by Coiste na nÓg and will be on sale inside the grounds for €3 with all proceeds going to Coiste na nÓg
Parking
Patrons are asked to park responsibly especially in St Finans Hospital Avenue & Grounds which is not a Parking Zone and vehicles may be towed away. Gardai will be on duty as Ambulance and Fire access must be maintained at all times.