Oct 24
Dr. Harty Cup
Castletroy College 3-8 High School Clonmel 1-13
Report by Ed Donnelly (info.munster@gaa.ie)
Castletroy College edged out High School Clonmel in the opening round of the Dr. Harty Cup Group C played at Sean Treacy Park Tipperary Town on Monday afternoon.
---
Click to view photos from the match
---
On a bright, sunny day for hurling, High School Clonmel won the toss and elected to play against the wind. This looked like a great idea when the Clonmel side raced in to a 1-3 to 0-0 lead after 10 minutes, the goal coming from Sean Martin. After hitting a number of wides, Castletroy eventually opened their account in the 12th minute courtesy of a Mark O'Dwyer free. Soon afterwards, Castletroy scored their first goal when Ronan Reale blocked down an attempted clearance by the Clonmel goalkeeper. By the end of the first quarter, the sides were level at 1-3 apiece.
Castletroy had now found their rhythm and scored their second goal in the 24th minute courtesy of Darragh Cullimore. On the stroke of half-time, Castletroy got in for their third goal scored by Ronan Reale and at the interval, the Limerick side led by 3-5 to 1-5.
High School Clonmel with wind assistance in the second half got off to the best possible start with three unanswered points in the opening five minutes after half-time to reduce the deficit to three points. After a period of missed chances on both sides, the High School Clonmel added further points in the 44th and 49th minute to leave just the minimum between the teams heading in to the final ten minutes.
Castletroy had yet to score in the second half until Conor Nicholas converted a long range shot from play to put them back in front by two points. The High School Clonmel were still dominating the general play however and scored two further points to bring the sides level in the 57th minute.
The game was now flowing from end to end with the next score being crucial. That score duly arrived in the 58th minute when a long range shot by Sean Martin sailed over the crossbar for a Clonmel point to give them the lead. Their advantage was short lived when from the resultant puckout, Castletroy won a 20 metre free which was duly converted by Mark O'Dwyer to bring the sides level again.
There was still time for one last piece of drama as Castletroy College worked the ball to full-forward Ronan Reale who scored a point from play as the game entered injury time. High School Clonmel tried their best to find an equaliser but the Castletroy defence stood firm to ensure a hard earned one point victory as referee John McCormack blew up for full-time.
Both of these schools will now play P.S. Blackwater with the top two sides qualifying for the last 16.
---
Click to view photos from the match
---
Castletroy College: P Hartnett; I Campbell, D Maher, N O'Brien; S O'Kane, C Nicholas (0-1), H Gleeson; D Minihane, K Barry; D Lynch, J Hickey (0-1), M O'Dwyer (0-5, 0-3 frees); D Cullimore (1-0), R Reale (2-1), P Power
Subs: D Hegarty for Gleeson (35m), A Rowsome for Hickey (49m)
High School Clonmel: L Delahunty; C Crowe, C McGrath, M McFadden; J Gunne, L Fogarty, J Ryan; D Bolger (0-1), M Stokes (0-5 frees); G Cullinane, B Owens (0-4), A Peters; C McKeown, S Martin (1-2), S Kennedy
Sub: N Hoctor (0-1) for McKeown (22m)
Referee: John McCormack (Knockavilla Kickhams)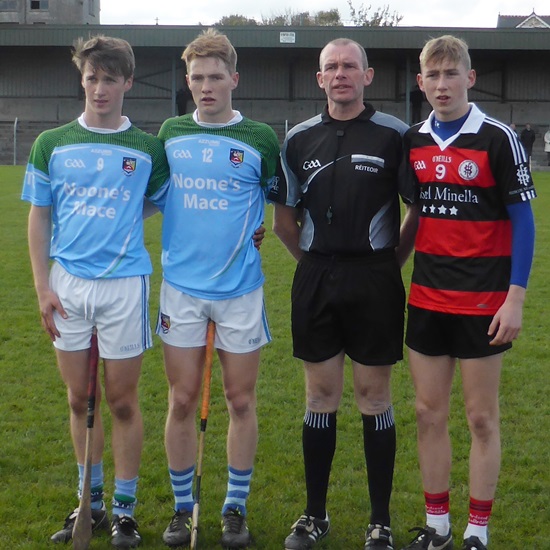 Oct 23
Ballygunner defeated Passage by 4-20 to 1-12 in the Waterford Senior Hurling Championship Final on Sunday October 23rd at Walsh Park Waterford.
---
Pauric Mahony's magic drives Ballygunner as Pat Flynn is honoured
By John Fogarty for the Irish Examiner newspaper
Ballygunner 4-20 Passage 1-12: The memory of the late Pat Flynn was honoured in style by his Ballygunner clubmen as they claimed a thoroughly convincing third consecutive senior county title in front of a disappointing 3,811 Walsh Park crowd.
Former Waterford goalkeeper Flynn, father of Paul, passed away on Thursday. His funeral takes place in the parish's St Mary's Church this morning where there will be smiles as well as tears as the current side replicated what Flynn's team accomplished in the late 1960s.
On a weekend where recently-deceased bastions of clubs in Munster sport were celebrated with victories, Flynn's grandson was the team mascot. And how Flynn would have been proud of the outrageous save made by Stephen O'Keeffe from Conor Carey in the 42nd minute. Had the ball made its way past O'Keeffe, Passage may have made a better fist of upsetting Ballygunner.
Instead, the defending champions notched up the next four scores to add to the four unanswered points they had registered prior to O'Keeffe's denial. Cillian Fitzgerald eventually brought a halt to Passage's barren spell that amounted to 17 minutes but Ballygunner's coup de grace came in the form of substitute Stephen Power's 51st-minute goal, O'Keeffe providing the assist with a huge wind-aided restart.
Seconds later and man-of-the-match Pauric Mahony had added another goal to stretch Ballygunner's advantage to 13. A Thomas Connors goal in the 54th minute brought some respectability to the scoreboard only for Passage's opponents to reel off the last six points of the game.
In this mood, they could go all the way to Croke Park on March 17, particularly if the Mahony brothers continue the form they have demonstrated for most of 2016. Philip was excellent in the opening stages when Passage, backed by the wind, were posing more of a threat while Pauric was simply talismanic in how he brought his team-mates into the game while helping himself to scores here and there.
Both sides were fortunate not to lose a man in the third minute when a nasty row broke out after Barry Coughlan and Eoin Kelly became embroiled in a ground tussle. Michael O'Brien, after consulting with his umpire, chose to yellow card the pair but it was a let-off given that there had been at least one punch thrown and in the subsequent melee players struck with hurleys.
In the hurling stakes, Passage were out of the blocks quicker as was expected considering the breeze at their backs. Three of their first five scores came from defence as they made the most of the conditions in their favour.
Ballygunner eventually settled but were four points down when Tim O'Sullivan found the net in the 18th minute although it appeared Peter Hogan had fouled his marker in the build-up.
assage almost cancelled it out immediately when Eddie Hayden managed to block Thomas Connors but Ballygunner were celebrating a second goal three minutes later as Billy O'Keeffe shot low and true past Eddie Lynch following a blinding turn of pace by Hogan.
With a Fitzgerald free, Passage narrowed the deficit to a point, which would be the difference at half-time (2-5 to 0-10) but they looked naive in contrast to Ballygunner. Even with such a bellowing force in their favour, they were dicing with death by leaving Ballygunner's two-man inside line in one-on-one situations with so much space to exploit.
With the two goals, all of Passage's good work was undone and while they knocked over the last three scores of the half their task facing into the wind was always going to be onerous. Kelly, with a 20-metre free, did level matters four minutes into the second half but what followed was a period of Ballygunner dominance that ended the game as a contest to truly put to bed their defeat to their neighbours at this stage three years ago.
Scorers for Ballygunner: Pauric Mahony (1-11, 0-7 frees); S. Power (1-1); T. O'Sullivan, B. O'Keeffe (1-0 each); B. O'Sullivan (0-4); P. Hogan (0-3); D. O'Sullivan (0-1).
Scorers for Passage: K. Fitzgerald (0-4, 3 frees); T. Connors (1-1); O. Connors, E. Kelly (0-2, 1 free each); N. Connors, A. Roche, J. Roche (0-1 each).
BALLYGUNNER: S. O'Keeffe; I. Kenny, B. Coughlan, E. Hayden; H. Barnes, Philip Mahony, S. Walsh; D. O'Sullivan, B. O'Keeffe; S. O'Sullivan, Pauric Mahony, C. Power; T. O'Sullivan, B. O'Sullivan (c), P. Hogan
Subs for Ballygunner: W. Hutchinson for B. Coughlan (blood 5-8); W. Hutchinson for B. O'Keeffe (43); S. Power for H. Barnes (48); M. Mahony for C. Power (52); J. Hutchinson for T. O'Sullivan (54); J. McCarthy for P. Hogan (55).
PASSAGE: E. Lynch; J. Flood, N. Connors, D. Lynch; A. Roche, J. Roche, S. Mason; P. Walsh, S. Hogan; O. Connors (c), K. Fitzgerald; T. Connors, E. Kelly, G. Cullinane
Subs for Passage: J. Whitty for G. Cullinane (h-t); R. Hurley for C. Carey (54); C. O'Neill for K. Fitzgerald, P. Flynn for S. Mason (both 60); P. Donnellan for A. Roche (60+1).
Referee: M. O'Brien (Portlaw).
Oct 23
Kilmurry / Ibrickane defeated Cratloe by 2-13 to 0-6 in the Clare Senior Football Championship Final Replay on Sunday October 23rd at Cusack Park Ennis.
---
Kilmurry Ibrickane win 11th Clare title
Report by Gerry Quinn for the Irish Examiner newspaper
Kilmurry Ibrickane 2-13 Cratloe 0-6: A powerful second-half performance saw Kilmurry Ibrickane claim their 11th Clare SFC title in front of a crowd of 3,722 at Cusack Park, Ennis.
After a doughty, defensive, first half display, after which they led 0-6 to 0-4, the men from the west opened up in the second period, to carve through a disappointing Cratloe outfit.
Killmurry manager Aidan Moloney remarked after the game: "Whereas we had a bit of a wind in the first half, it was minimal and I don't think it affected the game much. I think our backs really had shut the game down. It took us a while to get the hang of things but as the game went on we kept possession better and there's no doubt we got the scores as a reward."
In the opening half, defences dominated and scores were at a premium. Early points by Keelan Sexton and Michael Hogan got Kilmurry off to a good start and they were never lead at any point. David Collins was potentially Cratloe's most dangerous forward but he was well marshalled by Kilmurry defender Darren Hickey. In that opening period, the southeast Clare side could only muster a single point from play, from wing-back Martin Ógie Murphy, a testament to the vigilance of the Kilmurry defensive unit.
advertisement
After half time, the 2012 champions pushed on and within ten minutes of the restart had notched 1-2 without reply. Martin McMahon grabbed the game's first goal on 39 and moments later a Mark McCarthy point put the 'Bricks' 1-8 to 0-4 in front.
Their attack, lead by the impressive Keelan Sexton, exerted pressure and picked off some good scores and when veteran sub Johnny Daly was pulled down in possession in injury-time, Sexton duly dispatched the resultant penalty to the Cratloe net.
Colm Collins, the Cratloe manager, was a dejected figure: "There's no question, Kilmurry were by far the better team on the day. We didn't show up, we didn't play well and there's no doubt about it, Kilmurry deserved the win."
Scorers for Kilmurry Ibrickane: K Sexton (1-4, 1 free, 1-0 pen); M McMahon (1-0); I McInerney (frees), S Hickey, M McCarthy (0-2 each); P O'Dwyer, M O'Dwyer, M Hogan (0-1 each)
Scores for Cratloe: C McInerney (0-4, 3 frees); M Murphy (0-1); S Collins (0-1 free)
KILMURRY IBRICKANE: I McInerney, M McMahon, D Hickey, M Kileen, D Sexton, C Morissey, D Callinan, M McCarthy, K King, M O'Dwyer, S Hickey, M Hogan, K Sexton, P O'Dwyer, E Coughlan
Subs: N Downes for Callinan (42), N Hickey for Downes inj. (48), E Talty for Morissey (56), J Daly for M O'Dwyer (69).
CRATLOE: P DeLoughrey (Capt.),S Chaplin, B Duggan, L Markham, M Ógie Murphy, M Hawes, E Boyce, C Ryan, J Galvin, A McFaddan, S Collins, S Gleeson, C McInerney, P Collins, D Collins
Subs: C Cooney for McFaddan inj., (13), S McHugh for Gleeson (41).
Referee: P Cosgrove (Corofin)
Oct 23
Patrickswell defeated Ballybrown by 1-26 to 1-7 in the Limerick Senior Hurling Championship Final on Sunday October 23rd at the Gaelic Grounds Limerick.
---
Patrickswell dominate Ballybrown to capture 19th Limerick SHC title https://t.co/k9mgtcDnST pic.twitter.com/7pEfEz7tsV

— Irish Examiner Sport (@ExaminerSport) October 23, 2016
Magnificent Patrickswell still pride of the parish
Report by Eoghan Cormican for the Irish Examiner newspaper
Patrickswell 1-26 Ballybrown 1-7: Where parish rivalry is concerned, Patrickswell continue to hold the Indian sign over neighbours Ballybrown. Of far more importance to the famed Limerick club, though, is that blue and gold ribbons once more hang from the John Daly Cup.
Yesterday afternoon's 19-point hammering of Ballybrown was the most one-sided Limerick senior hurling final since the Patrickswell class of 1970 held Kilmallock to just two points. The manner of this latest victory, or indeed the final scoreline, was of little significance to the 'Well's current crop as they celebrated at the final whistle. Solely concerning them was that the club's 13-year wait for senior glory had been ended.
The win moves Patrickswell to the top of the local roll of honour with Ahane – both clubs boast 19 titles – while also extending their dominance over Ballybrown on county final afternoon. Yesterday's contest marked the fourth occasion the two clubs, who are pulled from the one parish, had locked horns on the concluding afternoon of the Limerick championship. And just as was the case in 1983, '87 and '95, the 'Well had too much for the team next door.
For 39-year old midfielder Barry Foley, there was a seventh county medal to celebrate. He pocketed his first in the autumn of 1993. Perfectly capturing his longevity in the blue and gold jersey is that many of his current team-mates, including top-scorers Cian Lynch, Aaron Gillane and centre-back Diarmuid Byrnes, were not even born on that successful afternoon 23-years ago.
Indeed, it was Foley's first point of the afternoon on 44 minutes which completed the scoring contribution of the front eight. Moreover, it was the seventh in a string of unanswered points which saw Gary Kirby's charges outscore their opponents by 0-9 to 0-1 upon the resumption. With the scoreboard reading 1-19 to 0-7, it was game over. In truth, this contest had long since been decided.
Returning back down the tunnel to the right of the Mackey Stand for the interval break, Patrickswell had moved a good deal closer to bridging their 13-year wait. 1-10 to 0-5 they led. Their advantage was largely born out of Ballybrown's dreadful inefficiency in front of goal – Evan Loftus' charges finished the opening period with 12 wides.
Crucial too in the establishment of daylight between the sides was the 'Well's unanswered 1-4 between the seventh and 14th minute. With Stephen Foster and Alan O'Connor having cancelled out early scores from Lynch and Gillane, Gary Kirby's side returned to the front with points from Diarmuid Byrnes (0-2, 0-1 '65), Thomas O'Brien and Lynch.
On 14 minutes, the favourites sped further clear. Thomas O'Brien gathered Mark Carmody's delivery into the right corner, offloaded to Lar Considine who pulled the sliotar across the square where the unmarked Kevin O'Brien was left with the simplest of finishes. Kyle Loftus and Alan O'Connor split the posts in the ensuing passages to pare the margin back to five. But that was the beginning and end of the Ballybrown comeback. If you could even call that. Jack Kelleher, Gillane (free), Thomas O'Brien and the lively Lynch swelled their tally before the break and it was more of the same in the second period.
For Ballybrown, their first-half shooting and collective failure to reappear for the second period will hurt most during the quiet winter months. Loftus' troops managed a meagre 1-2 in the closing 35 minutes of action, with Stephen Foster shooting a 50th minute consolation goal.
Scorers for Patrickswell: A Gillane (0-7, 0-5 frees); D Byrnes (0-6, 0-4 frees, 0-1 '65); C Lynch (0-3); K O'Brien (1-0); S O'Brien, J Kelleher, B Foley, T O'Brien (0-2 each); M Carmody, L Considine (0-1 each).
Scorers for Ballybrown: S Foster (1-1); A O'Connor (0-4, 0-3 frees); L Doolan, K Loftus (0-1 each).
Patrickswell: B Murray; N Carmody, J Mann, T Nolan; M Carmody, D Byrnes, N Foley; B Foley, J Kelleher; A Gillane, S O'Brien, C Lynch; T O'Brien, K O'Brien, L Considine
Subs: J Flynn for Nolan (56 mins); P Harty for S O'Brien (56); A Carroll for Considine (56); D Woulfe for K O'Brien (58); K Dundon for N Carmody (58).
Ballybrown: C Hedderman; L Doran, M Kiely, S O'Reilly; J Adams, R Kenny, D Kenny; S Kenny, S Foster; R Griffin, L Doolan, B Griffin; D Hall, K Loftus, A O'Connor.
Subs: M Sheehan for Hall (41 mins); A Cliffe for Doolan (41 mins); J Hall for Griffin (48); D Hartnett for Adams (55).
Referee: J Mullins (St Kieran's).
Oct 22
Monaleen (Limerick) defeated St Josephs (Clare) by 2-19 to 3-13 after extra time in the AIB Munster Intermediate Club Hurling Championship Quarter-Final on Saturday October 22nd at the Gaelic Grounds Limerick.
---
Thrilling extra time win for Monaleen in Munster club hurling https://t.co/CboqdpxskS pic.twitter.com/5I7uAH74qb

— Limerick Leader (@Limerick_Leader) October 22, 2016
Thrilling extra time win for Monaleen in Munster club hurling
Report from the Limerick Leader newspaper
Monaleen booked their place in the semi final of the Munster club IHC this Saturday afternoon with a thrilling extra time win over Doora-Barefield, 2-21 to 3-13.
The exciting quarter final win books a semi final against Kerry's Kilmoyley on November 5/6 in the Gaelic Grounds. Monaleen had a return of 1-12 from Andrew La Touche Cosgrave – 1-6 from play. A return of 2-3 from play from wing forward Tom Hannan had Doora-Barefield 2-5 to 0-8 ahead at half time. Monaleen had played with the aid of the gentle breeze in the first half.
The sides were level on four occasions in that first half but goals in the 10th and 20th minutes had the Clare side ahead. Andrew La Touche Cosgrave and Ed Doyle had early Monaleen points as the side were tied 0-3 each after eight minutes. Then came the first Hannan goal to move the men in maroon 1-3 to 0-4 ahead. Ger Collins (2) and Shane Mullane hit back to move Monaleen ahead again. But then came the second Doora-Barefield goal to move them 2-4 to 0-8 ahead.
The only score of the final 10-minutes was a Davy Conroy point to leave the Clare side three points clear at the break. On the change of ends points from a Conroy free and another from Hannan moved Doora-Barefield 2-7 to 0-8 clear.
Two La Touche Cosgrave frees hit back and then came two goals in 90-seconds. The first went to La Touche Cosgrave but Doora-Barefield hit back immediately when Alan O'Neill fired a penalty to the net. That left it 3-7 to 1-10 with 41-minutes played. O'Neill and sub Niall DeLoughrey added points and the Clare side were five points clear entering the final quarter.
But Doora-Barefield weren't to score in the final 25-minutes of action – including almost eight minutes of injury time. The final five points went to Monaleen to force extra time. Lorcan Lyons and a La Touche Cosgrave free deep into injury time forced the extra time.
Monaleen continued to dominate in extra time with four successive scores from subs Mark O'Dwyer and Darren Golden, along with captain Peter Russell to move 1-19 to 3-9 clear. Finally after 32-minutes without a score Davy Conroy had Doora-Barefield back on the scoresheet. When O'Neill added another it was 1-19 to 3-11 at half time in extra time.
So Monaleen brought a two point lead into the second period of extra time. The Limerick city side had the tonic start to the second half when Ger Collins goaled after 27-seconds and that was good enough to see them through.
Oct 20
The draws for the 2017 Munster Under 17, Minor and Under 21 Hurling and Football competitions took place on Thursday October 20th.
Munster Under 21 Hurling and Football
Munster Minor Hurling and Football
Munster Under 17 Hurling and Football
---
The 2017 Munster GAA Senior Hurling and Senior Football Championship Draws took place on Thursday October 13th.
---
In Hurling, Cork will play the defending champions Tipperary in the Quarter-Final will the winners playing Waterford in the semi-final. Limerick will face Clare in the other semi-final. Dates, times and venues to be confirmed.
All-Ireland champions Tipp open against Cork in Munster https://t.co/uTxZteSCXt pic.twitter.com/i50l5iAesR

— The Sunday Game (@TheSundayGame) October 13, 2016
In Football, Limerick will play Clare with the winners playing the defending champions Kerry while Cork take on Waterford with the winners playing Tipperary. Dates, times and venues to be confirmed.
Here's the 2017 Munster football draw https://t.co/uTxZteB1yT pic.twitter.com/eyKNKNA7uK

— The Sunday Game (@TheSundayGame) October 13, 2016
---
Check out the full details here of the 2017 Munster Senior Championship Draws
---
2017 GAA All-Ireland Provincial Championships Live Draw
The draws for the 2017 GAA Provincial Senior Football and Hurling Championships take place tonight, Thursday October 13 and will be broadcast live from 9.30pm on RTÉ2 television.
The draw for the Provincial Hurling Championships sees Meath enter the Leinster GAA Hurling Senior Championship for the first time since 2004 following their Christy Ring Cup success earlier this year, as Laois, Westmeath and Kerry complete the Leinster 'Qualifier Group' draw
2017 will see Kilkenny and Tipperary trying to retain their respective Leinster and Munster Hurling titles, while in football, Tyrone (Ulster), Galway (Connacht), Dublin (Leinster) and Kerry (Munster) will be aiming to retain their provincial titles.
The following people will take part in tonight's draw:
PRESENTATION PANEL
MICHAEL LYSTER
HENRY SHEFFLIN
LIAM SHEEDY
DESSIE DOLAN
JOE BROLLY
DRAW PRESENTATION
MARTY MORRISSEY
LEINSTER HURLING
MICHAEL FENNELLY [KILKENNY]
JOHN HORAN, LEINSTER GAA
MUNSTER HURLING
SÉAMUS CALLANAN [TIPPERARY]
JERRY O'SULLIVAN, MUNSTER GAA
MUNSTER FOOTBALL
LIAM KEARNS [TIPPERARY FOOTBALL MANAGER]
JERRY O'SULLIVAN, MUNSTER GAA
CONNACHT FOOTBALL
GARY O'DONNELL [GALWAY]
MICK ROCK, CONNACHT GAA
ULSTER FOOTBALL
CONOR McMANUS [MONAGHAN]
MICHAEL HASSON, ULSTER GAA
LEINSTER FOOTBALL
JONNY COOPER [DUBLIN]
JOHN HORAN, LEINSTER GAA
GREEN ROOM PRESENTATION
JOANNE CANTWELL
AUSTIN GLEESON [WATERFORD]
PODGE COLLINS [CLARE DUAL PLAYER]
JOHN HESLIN [WESTMEATH]
TOM PARSONS [MAYO]
DAVID TREACY [DUBLIN]
MARTIN McILHINNEY [DONEGAL]
SEAMUS HICKEY [LIMERICK]
EVAN COMERFORD [TIPPERARY]
COLM KEYES [IRISH INDEPENDENT]
KARL O'KANE [IRISH DAILY STAR]
Oct 19
Dean Ryan Cup Under 16 ½ A Hurling Semi-Final
Thurles CBS 4-24 Midleton CBS 0-8
Report by Ed Donnelly (info.munster@gaa.ie)
Thurles CBS booked their place in the Dean Ryan Cup Final courtesy of a comfortable victory over a disappointing Midleton CBS on Wednesday at Ardfinnan.
---
Click to view photos from the game
---
Midleton started well and scored two points from play in the opening two minutes but amazingly, failed to score from play again in the game. Thurles CBS had a goal chance in the third minute but Eoin Morris saw his effort well saved by the Midleton goalkeeper Jack McGann. This reprieve would not last long however as Max Hackett made no mistake from close range in the fifth minute to raise a green flag for Thurles CBS and put them in to a 1-1 to 0-3 lead. Midleton equalised soon afterwards courtesy of a free from Joe Stack but Thurles CBS were winning all the key duels and raced in to a six point lead at the end of the opening quarter as Max Hackett got in for his second goal.
The second quarter belonged in its entirety to Thurles CBS as Midleton were making no impression at all up front. After Midleton's promising start, Thurles outscored Midleton by 1-10 to 0-0 in the closing 20 minutes of the first half and by the interval, Thurles led by 2-11 to 0-4.
Little changed in the second half as Thurles continued to score at will. Darren Flood added a third goal for Thurles in the 41st minute before substitute Eoin Purcell scored the fourth goal 12 minutes later. Thurles could afford to score a point from a penalty in the closing stages and despite hitting 14 wides in the match, they racked up an impressive 4-24 by the time the final whistle sounded. Darragh Tynan, Max Hackett and Darren Flood accounted for 3-17 of the Thurles score as all of their forwards scored at least once from play. Joe Stack scored six of Midleton's points, all from frees.
Thurles CBS will now play St. Colmans in the Final after the Fermoy school defeated John the Baptist Community School by 3-12 to 1-12 in the other semi-final played at Golden.
---
Click to view photos from the game
---
Oct 18
Corn Ui Mhuiri Under 18 ½ A Football
Mercy Mounthawk 4-16 High School Clonmel 0-7
Report by Ed Donnelly (info.munster@gaa.ie)
Mercy Mounthawk from Tralee earned the first victory in the 2016/2017 Corn Ui Mhuiri competition by virtue of a comprehensive 21 point victory over last year's finalists High School Clonmel. Played at Mallow GAA Complex on a dry, brisk afternoon, Mercy Mounthawk began strongly with a point from play in the opening minute from Bobby O'Regan. This was quickly followed by three further points before High School Clonmel got their opening score, a point from play by wing-back Manus McFadden in the 12th minute. The Mercy Mounthawk dominance was pronounced at this stage and corner-forward Rory O'Connor was denied by two excellent saves by Aidan Tobin in the High School Clonmel goal to keep the deficit at manageable levels. Mercy Mounthawk midfielder had his side's third goal chance in the 23rd minute and while the Clonmel defence could do nothing on this occasion, his shot sailed just over the bar for the final point of the opening half, leaving the interval score at 0-8 to 0-3 in favour of the Kerry school.
Mercy Mounthawk were in no mood to let the Clonmel side back in to this game and rattled off the first four points of the second half before the first goal arrived, courtesy of wing-forward Michael Walsh in the 40th minute. From the resultant kickout, Mercy Mounthawk were again on the attack before the Clonmel defence fouled Rory O'Connor at the expense of a penalty which was expertly dispatched by Bobby O'Regan. With the score now reading 2-12 to 0-3, the game was well and truly over as a contest as both schools began to ring the changes.
The final quarter saw Mercy Mounthawk add two further goals from corner-back Padraig Mahony and full-forward Dara Devine and despite some late efforts by Clonmel to score a consolation goal, it wasn't to be as the Tralee based school ran out 4-16 to 0-7 winners.
Mercy Mounthawk: Brian O'Regan; Padraig Mahony (1-0), Shane Walsh, Donagh McMahon; Colm Carmody, Sean Collins (0-1), Fergal Barry (0-1); Ciaran O'Reilly (0-1), Michael Linnane; Sean Griffin, Bobby O'Regan (1-3, 1-0 penalty, 0-1 free), Michael Walsh (1-0); Rory O'Connor, Dara Devine (1-6, 0-2 frees), Eoin McElligott (0-4)
Subs: Diarmuid O'Connor for Carmody (45m), Richard O'Flaherty for O'Connor (52m), Eoin O'Malley for Linnane (52m), Rory Murphy for Devine (53m), Fiachra Ennis for Griffin (53m)
High School Clonmel: Aidan Tobin; Dean McMurrow, Oisin O'Dwyer, Shane Egan; Jamie Grant (0-2), Conor McGrath, Manus McFadden (0-1); Luke Fogarty, Ben Owens; Sean Maher, Shane O'Meara, Michael Farrow; Michael Murphy, Cian O'Sullivan (0-2 frees), Sean Martin (0-1 free)
Subs: Aaron Phelan for Farrow (35m), Conor Foley (0-1) for McElligott (42m), Keenan Bowe for McMahon (42m), Ian Foley for Murphy (52m), Jamie Roche for Fogarty (59m)
Referee: Kevin Walsh (Clare)
Oct 16
Oct 16
Thurles Sarsfields defeated Kiladangan by 0-27 to 1-15 in the Tipperary Senior Hurling Championship Final on Sunday October 16th at Semple Stadium Thurles.
---
REPORT: @TipperaryGAA SHC glory for @thurlessars https://t.co/1LUPCON4LR pic.twitter.com/J5FrJX5uUB

— The GAA (@officialgaa) October 16, 2016
Tipperary SHC: Thurles Sarsfields retain title
Thurles Sarsfields 0-27 Kildangan 1-15
By Jackie Cahill at Semple Stadium for GAA.ie
Thurles Sarsfields are Tipperary senior hurling champions for a 35th time. On the day 'The Blues' lost a club legend, Mickey 'The Rattler' Byrne, they stormed to a third title in a row at Semple Stadium, defeating Kildangan by nine points.
It's the first time that Sars have put three successive crowns together since the 1960s and they march on an AIB Munster club quarter-final clash with the Waterford representatives in a fortnight's time. This was impressive stuff from Sars on a day when they had scoring contributions from eight players.
Pa Bourke topped the list with nine points, including seven frees, as Aidan McCormack and Richie Ruth rattled over 11 from play between them. There was also a man-of-the-match display in defence from Ronan Maher, who put over arguably the score of the game in the 43rd minute from a sideline ball, almost 70 metres out.
In front of 6,546 spectators, Sars established a 0-15 to 0-6 interval lead and were in cruise control. Within the opening ten minutes, they had nine points on the board, Ruth knocking over four of those in a blistering start. It took Kildangan, appearing in their first Dan Breen decider since 1938, until the 21st minute to register their opening score from play, Willie Connors on target, but it was token response as Sars kept the scoreboard ticking over.
On a number of occasions, goal opportunities were there to be exploited as Sars broke from deep positions, but they were content with points instead. Former Hurler of the Year Lar Corbett got in on the scoring act with a long-range special in the 21st minute and while Kildangan did score three of the last five points of the first half, the men from the North were facing an uphill battle ahead of the second half. They were 12 points behind, 0-9 to 0-21, before Joe Gallagher hammered home a consolation goal in the 46th minute.
Scorers for Thurles Sarsfields: P Bourke 0-9 (7fs), A McCormack 0-6, R Ruth 0-5, R Maher (1 sl) and C Lanigan 0-2 each, S Maher, S Lillis and L Corbett 0-1 each.
Scorers for Kiladangan: D Egan 0-6 (5fs), J Gallagher 1-1, W Connors 0-3 (1 65s) R Gleeson 0-2, J Horan, P Flynn and T Gallagher 0-1 each.
Thurles Sarsfields: P McCormack; M Cahill, S Lillis, S Maher; D Maher, P Maher, R Maher; S Cahill, B McCarthy; T Doyle, A McCormack, P Bourke; C Lanigan, R Ruth, L Corbett
Subs: R Dwan for D Maher (50), J Maher for Lanigan (52), D Kennedy for Corbett (59), K O'Gorman for Ruth (60+3).
Kildangan: B Hogan; J Quigley, H Flannery, F Hayes; D Sweeney, A Flynn, D Moran; J Horan, M Minehan; J Gallagher, W Connors, R Gleeson; T Gallagher, D Egan, P Flynn
Subs: J Loughnane for Minehan (24), E Kelly for Horan (45).
Referee: J McCormack.
---
Thurles Sarsfield honour memory of 'The Rattler' with emphatic win over Kildangan https://t.co/0jxvvK3tpq pic.twitter.com/TsuRZAWZhO

— Irish Examiner Sport (@ExaminerSport) October 16, 2016